Pro-Life Boot Camp
2009 Youth for Life Pro-Life Boot Camp

"Debunking the Myths"

July 24th - 29th at the University of Dallas, Irving, Texas.

Guest speakers this year are Fr. Frank Pavone of Priests for Life and pro-life blogger Jill Stanek

Early registration starts March 28th and ends June 30th.

Space is limited to 127 youth, chaperones and junior staff.
Junior Staff/Chaperone training:
Thursday, July 23rd.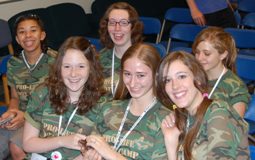 Youth For Life Pro-Life Boot Camp is one of the best opportunities for young people to become involved in the work of the pro-life movement.

Pro-Life Boot Camp is for high school and home-schooled students ages 14 and up. Last summer (2008) more than 100 teens and adults participated in Pro-Life Boot Camp at the University of Dallas in Irving, TX.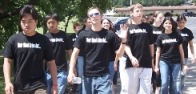 Activities at Pro-Life Boot Camp include praying at Dallas and Fort Worth area abortion mills, talks from experts on various pro-life issues, skits, pro-life testimonials, Mass and the Sacraments and pro-life volunteer projects.

Pro-Life Boot Camp needs Chaperones (cleared adults 21 and over) and Junior Staff (cleared adults ages 18-21) to help put on the event.