A heartfelt thanks to all who partnered with us to make The Bishop's 15th Annual Catholic Pro-Life Dinner fundraiser supporting the nine ministries of the CPLC the beautiful success that it was!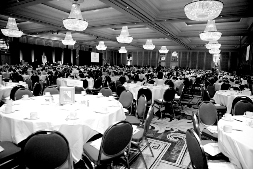 In every way, this year's dinner, held April 5 in the Chantilly Ballroom at the Hilton Anatole, was a record-breaker: We had a record attendance of 2,075 guests, and we raised record proceeds: A total of $307,000 in gifts that night and pledges for the year was received in the offering, an increase of 25 percent from last year's prior record-breaking event! In addition, the silent auction raised $46,000 (double last year's proceeds) and our first-ever car raffle brought in $58,200! Compared to all past years, more was received in underwriting, program ads and premium table donations than ever before.

We are profoundly thankful to the generously pro-life spirit in the Diocese of Dallas, which will allow our ministries to flourish and build a culture of life as never before! This outpouring is nothing less than a clear message that Dallas loves life.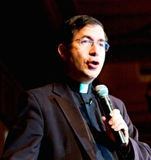 Thanks to everyone who bought raffle tickets, whether you could attend the dinner or not. We offer congratulations to our winners: Nick & Lucy Panza of St. Ann Parish, who won the 2008 Toyota Camry; Michael & Sonja Skaggs, also of St. Ann Parish, who won the Carnival cruise; and Donna Karcher of St. Jude Parish in Allen, who won the Ninento Wii game system.
And the winners of the beautiful bronze statue of St. Francis, chosen in a random drawing from among those who gave gifts and/or annual pledges of $1,000 or more in the offering, were David & Susan Willingham of St. Ann Parish in Coppell. We're so happy for you!
Special thanks and recognition for the event go to:
--Bishop Kevin Farrell, for hosting this event, a tradition he inherited from our founder Bishop Charles Grahmann. Bishop Farrell's remarks on the importance of youth in furthering the culture of life were compelling and memorable.
--Ed & Anita Johnson, who graciously and beautifully served as our Honorary Chairs;
--Our dynamic keynote speaker Father Frank Pavone, who carried on the theme of youth, who see the truth and call us on toward the truth. He motivated all of us to do our unique and irreplaceable part in defending the innocent and ending abortion.
--Our volunteer chairmen, giving sacrificially of their time and talents, notably:
--Auction Chairmen Martin & Barbara Reiser of St. Francis Parish in Frisco, who pulled together an energetic team that solicited, organized, created and displayed more than 500 auction items;
--Auction team captains Gary & Karen Hecht, Ron Holleman, Gene & Marilyn Sartore, Elizabeth Donner, Mary Ann Kneese, Edith Ramos, JoAnn Murray, and Sharrie Kobeska;
--Raffle Chairman Dan Polcari of St. Ann Parish in Coppell, who developed our very first raffle, a rousing success;
--AV Chairman Bill Lenchner of Christ the King Parish, who ensured top quality sound and video;
--Banquet Hall Chairman Michelle Coker of Mary Immaculate Parish, who made our dinner tables and the stage beautiful;
-- Check-In Chairmen Mark & Monica Woodson, of St. Paul Parish, adapting to Auction Source for the first time in their 12 years of organizing check-in for the dinner;
--Diocesan Sacred Art Competition Chairman Patty Daniel, who organized and promoted the contest that provided beautiful student art to bless our event and promote our cause.
Thanks to those who assisted our program, including Tarek Saab, video producer George Strong and singer J.E. McKissic.
Thanks also to our staff who filled critical roles in the event planning and execution: Event Coordinator Tanya Feenstra; Prayer Chairman Jacqulyn Dudasko; Promotions Chairman Andrew Smith; Parish Promotions Chairman Megan Lechler; Registration Chairman Linda Solis; Youth Volunteer Chairman Jacquelyn Smith; Financial Processes Chairman Mary Matasso; Spanish Translation Chairman Aurora Tinajero; Exhibit Hall Chairman Patty Sherrod; and VIP Reception Chairman Ann Van Vickle; Program Book Editor Caryn Stevens; Program Ad Solicitor Jessie Anne Nobles; Database Operator Marie Wood; and Testimonial Coordinator Fonda Lash.
And finally, thanks to countless others, especially our Board Members, Parish Coordinators and many other faithful volunteers, who sold dinner tables and raffle tickets, secured auction items and recruited tirelessly to bring everyone to this event to celebrate life.
Most of all, we thank our awesome God, the Lord and Giver of Life, from Whom all blessings come!
His greatest blessings to all!
With love and gratitude,
Karen Garnett, Executive Director
Ellen Rossini, Development Director