Chaperone and Volunteer Information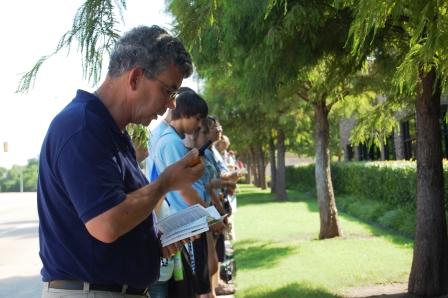 Youth For Life Pro-Life Boot Camp requires an army of chaperones and volunteers to make camp a success.
All adults, age 18+ (Jr. Staff, Chaperone or Part-Time Volunteer), must be Safe Environment cleared in order to work with the youth at Pro-Life Boot Camp. You will be asked to provide proof of clearance with your application. "Proof of clearance" means paperwork from your parish or diocese showing the date of your most recent criminal background check, most recent date of training and proof that you are clear according to the requirements of your diocese.
Junior Staff, Chaperones and some volunteers must attend a mandatory staff training the day prior to camp on July 14. At the training, we will cover exact duties for each staff member, rules of the camp, how to enforce discipline, etc. The training will be held at the University of Dallas, and you will be contacted with the exact time and location as the date approaches.
Please be advised that Chaperones (age 21+) and Jr. Staff (age 18-20) are required to work while at camp and have very specific duties that are meant to ensure the safety of our campers.
Examples of these duties are:
Leading small group activities
Knowing where specific youth are at all times
Providing a positive example of pro-life leadership
Enforcing Boot Camp rules
Night patrols in the dorms (for Overnight Camp)
We have a long and busy schedule for each day of Boot Camp. During overnight camp, that includes usually waking up around 7:00 a.m. and not going to bed until after 10:00 pm or until all campers are in their proper rooms. There is downtime each day, but, as Chaperones, you will always need to be present for the youth and mindful of the Safe Environment policies. The goal is to create the best possible experience for our campers, inspiring and empowering them to be the pro-life leaders of today and tomorrow.
Chaperones should have prior youth ministry experience and be ready to meet the needs of the youth emotionally and physically.
We thank you in advance for your willingness to serve the youth who attend Pro-Life Boot Camp.
Returning Chaperones/Volunteers Application