---
'The Esther Call' Attracts Over 4,000 Women in Prayer, Worship for Life
By Brittany Smith, Christian Post
The birthplace of Roe v. Wade was the backdrop for a pro-life event on Good Friday called The Esther Call, which drew thousands of people from across the country to Dallas, Texas.

The Esther Call, named for the biblical figure Esther and her role in saving a nation, brought together over 4,000 women in prayer and worship for life and an end to abortion, and welcomed back 39 women who had walked 250 miles for 21 days for the Back to Life prayer walk. Continue reading.

---

The CPLC was in attendance at the morning praise and worship welcoming the 39 women to Dallas, and supported The Esther Call with volunteer post-abortion counselors and helped facilitate priests available for confession.
Thank you to all who volunteered their time for this historic event!

Also on Good Friday, hundreds joined Father Paul McCormick, O.Cist. for the Pro-Life Stations of the Cross outside the Southwestern late-term abortion center where those in the image and likeness of God are put to death every day.
---
Last Chance to Purchase Bishop's Dinner Raffle Tickets Online by 5 p.m. Today!

---
Project Life – Biotechnology & Cloning: The Future is Now

---
Youth For Life Leadership Meeting

Date: Tuesday, April 17

The Youth For Life Leadership Council welcomes adults interested in planning and chaperoning youth pro-life events throughout the year. Learn how you can help form the young pro-life leaders of today! For more info, contact Jacquelyn Smith, 972-416-9591 or .
Time:

7:30 p.m.

Location: All Saints Catholic Church, Kamel Life Center Room 10
---
Quarterly Mass and Procession

---
Charity Pro-Life Disc Golf Picnic

---
| | |
| --- | --- |
| | Breaking Pro-Life News |
Local Residents Upset with New Planned Parenthood complex in West Fort Worth
By Dave Andrusko, National Right to Life News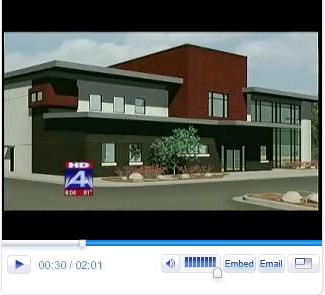 Secrecy surrounding the construction of Planned Parenthood facilities is nothing new. But that doesn't make it any the less infuriating when local pro-lifers learned that Planned Parenthood of North Texas was breaking ground in southwest Fort Worth, Texas, on a $6.5 million abortion complex. According to its website, the planned 19,000 square foot complex will be triple the size of the facility it is replacing.

Once word leaked out, Ken Lambrecht, president of Planned Parenthood of North Texas, conceded that only a few people knew about what was being built and that one subcontractor had quit. He told reporters that construction on the center started a few weeks ago. The new facility is located next to the Edna Gladney Adoption Center.

"Lambrecht said Planned Parenthood helped provide more than 6,000 abortions in North Texas in 2010," according WFAA TV in Dallas-Ft. Worth. Continue reading
---
Proposal to pay for contraceptive cost 'radically flawed,' say bishops
By Catholic News Service

Even with a new federal proposal that third-party administrators pay the costs of contraceptives for religious employers who object to the coverage, the health reform law's contraceptive mandate "remains radically flawed," according to the U.S. bishops. Continue reading

Also of interest: CPLC responds to North Texas knitters stitch uteruses for protest
---
"October Baby" to open in 220 new theaters this weekend; success vexes abortion group
by Jill Stanek, JillStanek.com

. . . After three weeks of limited release in 339 theaters nationwide, October Baby has surprised just about everyone as a sleeper success and this weekend will open in over 220 new venues. Continue reading
---
| | |
| --- | --- |
| | The CPLC depends on friends like you to partner with us to save lives. Please consider making a donation to support our work. Thank you and God bless you! |
---
All together, let us build a culture of life!

Please pass this on to your friends and family!

For more information, call the CPLC at 972-267-LIFE (5433), or visit our web site: www.prolifedallas.org.
---
This message is brought to you by the Catholic Pro-Life Committee, the Respect Life Ministry of the Diocese of Dallas. The CPLC is a 501(c)(3) non-profit organization. Tax-deductible donations to support the life-saving work of the CPLC may be mailed to: CPLC, P. O. Box 59852, Dallas, TX 75229, or make a secure donation online at www.prolifedallas.org/pages/donations.

To subscribe to the Catholic Pro-Life Committee E-alert list, please send your request to

with your name, contact information and e-mail address and the word SUBSCRIBE on separate lines in the body of the e-mail message.