---
U.S. Bishops Speak on "Topics that touch the core of every human heart."

"Lately, the Church's teaching on contraception has been getting a good deal of public attention in the media. This has naturally led to people asking questions, especially if this teaching is news to them. Even as Catholics, we may be struggling with questions of our own. . . . Consider that in marriage, spouses love not only through words, but through the actions and gestures of their bodies. In particular, the sexual act in marriage speaks of a total commitment to a future together—a future open to welcoming the gift of a child if so blessed and open to fruitful love and service to others. The Church's teaching on marital sexuality is an invitation for husband and wife to enter more fully into communion with each other and with the blessed Trinity, the fount of life and love."
Check out the answer to frequently asked questions about this issue at the new website: usccb.org/love-and-sexuality. "Questions Welcome" bulletin available here.

Additional Resources:
---
Registration for CPLC Classic / Bishop's Cup Open!

---
Tweets from the Street Campaign

Date: Now - August 31

Follow the life and death struggles of CPLC sidewalk counselors on the front lines of Dallas abortion centers. Sign up today to share the 30-day experience of being a missionary to the unborn. Follow us at twitter.com/CPLCDallas (#TFTS).


Hash tag: #TFTS
---
Voices 4Life Service Event

Dates: Saturday, August 18

Voice 4Life is the young adult outreach of the Catholic Pro-Life Committee. Join Voices 4Life for a morning in service of life at the White Rose Women's Center, followed by a reflection in the center's chapel, and those interested can enjoy lunch together. Please RSVP to Brandee Nelson at by August 13. *To keep the center's small parking lot free for clients, please park on one of the side streets – McKinney Ave. or Oliver St. Thank you.
Time: 9:30 a.m.

Location: White Rose Women's Center at Central Expwy, Dallas

---
Gabriel Angel Training

Date: Saturday, August 18, 25

Project Gabriel provides practical help to a woman who has chosen life for her unborn baby. Become a Gabriel Angel and learn how to mentor a mother facing a crisis pregnancy. For more information and to register online (required), visit prolifedallas.org/angeltraining. If you have additional questions, contact Patty Sherrod, or 972-235-5554. Attendance at the August 25th follow-up session and Angel Commissioning is required.
Time: 8:30 a.m.

Location: Immaculate Conception, Grand Prairie

Flyer
---
Render Unto Caesar Faithful Citizenship Conference

Date: Saturday, Sept. 8

The conference will train and activate faithful citizens to be involved in the public square. You will hear from experts in the field, including Bishop Mark Seitz, the CPLC's Karen Garnett, Jeff Patterson of the Texas Catholic Conference, Dr. Joe Pojman with Texas Alliance for Life, and luncheon keynote speaker Angela Balderaz – an abortion survivor and one of the 39 women who participated in the historic Back to Life walk. Registration is $25 per person, $35 per couple. For more information and to register, please visit prolifedallas.org/conference.
Time: 10 a.m. - 5 p.m.


Place:

St. Mark Parish Center, Plano
Bulletin Insert/Flyer
---
| | |
| --- | --- |
| | Pro-Life Job Openings |
CPLC Job Openings*:
Development Assistant
The CPLC has an outstanding opportunity for a detail-oriented, outgoing and self-motivated fundraising professional to serve as Development Assistant, a half-time position. This person will work with the Director of Development and half-time Development Officer to help nurture and expand our institutional donor relationships, coordinate fundraising events, and help administer special projects.
Responsibilities include assisting Director of Development with donor communications and outreach, coordinating and facilitating donor events, providing critical program support for the Bishop's Annual Pro-Life Dinner, and grant research and writing. Click here to review complete job description.

Please send resume and cover letter to . No calls, please.
Rachel's Vineyard™ Retreat Spanish-Speaking Counselor (LPC, LMFT or LCSW)
Abortion AfterCare-Healing / The Rachel Ministries is looking for a mental health professional (LPC, LMFT or LCSW), fluent in Spanish, who is interested in volunteering on a Rachel's Vineyard™ Retreat in Spanish in Dallas once a year. This person may shadow another therapist until they feel comfortable with the retreat process. For more information, please contact Eileen Kuhlmann, Director of Abortion AfterCare-Healing / The Rachel Ministries at 972-679-4760 or .
*Applicants for CPLC positions must be active members in good standing with their parish/faith community, and must demonstrate belief in and acceptance of Catholic Church teaching, especially on life issues.
---
Birth Choice Job Opening: Client Services Director
Birth Choice of Dallas seeks a Client Services Director for its counseling centers serving the woman in an unanticipated pregnancy and her unborn child. The successful candidate will have volunteer management expertise and fully embrace Catholic teachings on life. This salaried, full-time position requires occasional evening and week-end duties. Information about the Birth Choice ministry is found at catholiccpcdallas.org and birthchoiceofdallas.org. Click here for complete job description.
Forward cover letter with resume to or Birth Choice, 8604 Greenville Avenue, Suite 102, Dallas, TX 75243.
---
| | |
| --- | --- |
| | Breaking Pro-Life News |
HHS mandate shouldn't require leaving faith, values at home
By Archbishop William E. Lori, The Washington Post
Religion is a seven-day-a-week commitment. Pope Benedict XVI made that clear when he asked in 2008: "Is it consistent to profess our beliefs in church on Sunday, and then during the week to promote business practices or medical procedures contrary to those beliefs?" His question of the U.S. bishops during his visit to Washington strikes home now, after a Colorado judge weighed in on the question. Continue reading
Also of interest: Vatican: Proclaiming Liberty in the U.S.A.
---
Texas Monthly Response: Women Deserve Better
By Jennifer Carr Allmon, Texas Catholic Conference
| | |
| --- | --- |
| Texas women deserve better. Mimi Swartz [author of Texas Monthly article: Mothers, Daughters, Sisters, Wives] missed the real story to be told about the sonogram bill—it is not one of men forcing laws on women—it's actually the power of women that she's overlooked. . . . As I learned the truth about abortion in college, I became outraged at just how badly abortion hurts women, despite having heard for years the mantra of "women deserve choice." I understand that women deserve better, and so I made the choice to become a pro-life advocate. The sonogram bill that passed last session is one small step at giving women power—after all, isn't knowledge power? Read entire article. | |
---
Psychologist, Social Worker Receive USCCB Pro-Life Awards
by Sr. Mary Ann Walsh, LifeNews.com
A Sister of Social Service and a psychotherapist received the 2012 People of Life Award for lifetime commitment to the pro-life movement, at an August 6 ceremony at the annual Diocesan Pro-Life Leadership Conference in Anaheim, California. The honorees were Vincent Rue, PhD, and Sister Paula Vandegaer, SSS. Continue reading
**CPLC Spanish Ministry Director Aurora Tinajero was honored to present at the Conference on the Hispanic Outreach Panel**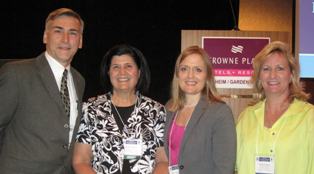 (Aurora pictured here with USCCB's Tom Grenchik and Mary Jaminet McClusky and CPLC Executive Director Karen Garnett)
---
| | |
| --- | --- |
| | The CPLC depends on friends like you to partner with us to save lives. Please consider making a donation to support our work. Thank you and God bless you! |
---
All together, let us build a culture of life!

Please pass this on to your friends and family!

For more information, call the CPLC at 972-267-LIFE (5433), or visit our web site: www.prolifedallas.org.
---
This message is brought to you by the Catholic Pro-Life Committee, the Respect Life Ministry of the Diocese of Dallas. The CPLC is a 501(c)(3) non-profit organization. Tax-deductible donations to support the life-saving work of the CPLC may be mailed to: CPLC, P. O. Box 59852, Dallas, TX 75229, or make a secure donation online at www.prolifedallas.org/pages/donations.

To subscribe to the Catholic Pro-Life Committee E-alert list, please send your request to

with your name, contact information and e-mail address and the word SUBSCRIBE on separate lines in the body of the e-mail message.