---
"It's not a question of manpower; it's a question of willpower."

Check out this inspiring video challenging all of us to be that "one reluctant hero" following His will, not our own...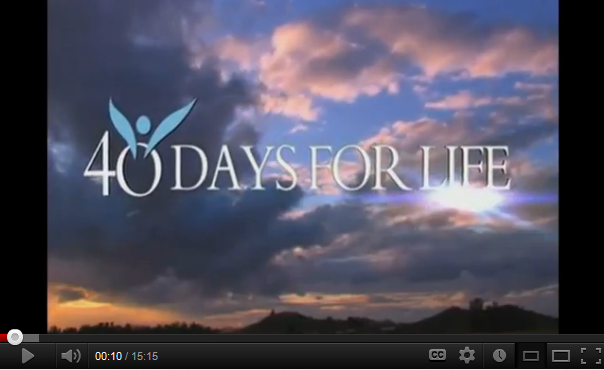 As the song in this video so aptly asks, "If you gotta start somewhere, why not here? If you gotta start sometime, why not now?" Click here to learn how you can help end abortion right here, right now.

And please join us to kick off the next amazing 40 Days for Life campaign in Dallas on September 25 at 6:30 p.m. in Harry Moss Park, featuring Frank Gray of Forgotten Fathers!
---
Voices 4Life Party Boat Sunset Cruise

Dates: Sun., September 23


Join other young singles and marrieds for a sunset cruise aboard the Star of Texas party boat on Lake Lewisville, with surprise guest: Angela Balderaz who will share her amazing testimony as an abortion survivor. Cost: $20 per person, including dinner, drinks and free Voices 4Life membership. Free for current Voices 4Life members. Click here to reserve your ticket today! Space is limited.

Check out pictures of last year's cruise here.

Time: 6:00 - 9:00 p.m.

Location: Sneaky Pete's at Eagle Point Marina, Lewisville

---
Please join us in prayer for all participants in the Rachel's Vineyard™ Spanish Retreat this weekend. May Christ's endless love be felt by all.

---
CPLC Classic / Bishop's Cup – Registration Now Open!

Date: Mon., October 22

Please join us for the 12th Annual CPLC Classic/Bishop's Cup Pro-Life Charity Golf Tournament at The Tribute Golf Club in The Colony, a U.S. top-rated course inspired by the famous links of Scotland. Bishop Seitz will be attending the golf tournament and will be presenting the Bishop's Cup to the winners! For more info, visit prolifedallas.org/golf or contact or 972-270-3019.

Tee-Time: 12:30 p.m.

Location: The Tribute Golf Club, The Colony
Flyer
Special thanks to our first hole and tee box sponsors: Dowd Commercial Advisors, The Catholic Foundation, Minuteman Press, Rodenbaugh's Flooring America and Appliances, Guadalupe Radio Network, Little Elm Eye Care, Talreja & Company, Law Offices of W. Russell Toates, & Mark A. Venincasa DDS. Click here to become a sponsor!
---
Hike for Life
---
Speakers Bureau Training Workshop

Date: Sat.

, September 22



Learn how to effectively share your pro-life beliefs with others. The CPLC Speakers Bureau will train you to spread the pro-life message to both youth groups and adults. Learn the new and fun activities that we incorporate into our presentations! For more info and to register, contact Jan Storey, 972-986-5463 or .
Time: 9:00 a.m.
Location: St. Monica, Dallas, (Rm. 212, Family Ctr)
Bulletin Insert/Flyer
---
The Not So Underground Railroad: Activating Youth in the Movement to Abolish Abortion

Date: Sat, September 22


High school students are invited to join us for an afternoon of dynamic speakers, pro-life service projects, and a monthly pro-life challenge. The theme of this meeting will be "Saving Babies One Vote at a Time."

For more information, click here or contact Youth For Life Director Jacquelyn Smith, 972-416-9591, or .

Time: 2:00-4:00 p.m.

Location: St. Rita, Dallas (Sweeney Hall)

---
Faithful Citizenship Presentations (Bilingual)

Dates & Locations:

Sept. 22: St. Ann, Coppell, 9 a.m. (note corrected time)


Sept. 27: St. Michael, McKinney, 7 p.m.


The CPLC is presenting free Faithful Citizenship seminars discussing how our Catholic beliefs and civic responsibilities intersect and what it means to be a Catholic voice in the public square.

For more information, or to schedule a presentation to your group or parish, please contact the Catholic Pro-Life Committee, 972-267-LIFE (5433), or .
---
| | |
| --- | --- |
| | Breaking Pro-Life News |
---
Your Vote is Your Voice. Make it Count
by Jeffery Patterson, Texas Catholic Conference
It is your turn.

Over the past year, the Church and our bishops have been tirelessly occupied in defending our rights to religious liberty and freedom of speech. Now is the chance for YOU to make good on what that fight has been about; it is time for you to step up and lend your voice to the public debate. What you do--or DO NOT do-- this November 6 can have important consequences for the future.

If you--or your friends and family--are not already registered to vote for the Election on November 6, please do so now. THE LAST DAY TO REGISTER TO VOTE IN OCTOBER 9, 2012.
Registering to vote is simple. The Texas Secretary of State's Office has provided an easy-to-access website that you can use to register online at http://www.votetexas.gov/. Continue reading
---
Planned Parenthood Botches Abortion, Leaves Woman Infertile
By Steven Ertelt, LifeNews.com
A Planned Parenthood clinic in Birmingham, Alabama faces a lawsuit for negligence for a botched abortion that left a woman unable to have children.
Roberta Clark walked into the Birmingham Planned Parenthood on August 20, 2010, for what she thought would be a routine first-trimester abortion. . . Twenty-five days later, Clark was in a Birmingham hospital E.R. undergoing emergency surgery to save her life. Read entire article

---
*Also of interest: GRN's Good News program features CPLC's Communication Director in response to SMU's controversial program on women's health care featuring Sandra Fluke. Click here to listen to the Catholic response. (9/17/12 show).

---
| | |
| --- | --- |
| | The CPLC depends on friends like you to partner with us to save lives. Please consider making a donation to support our work. Thank you and God bless you! |
---
All together, let us build a culture of life!

Please pass this on to your friends and family!

For more information, call the CPLC at 972-267-LIFE (5433), or visit our web site: www.prolifedallas.org.
---
This message is brought to you by the Catholic Pro-Life Committee, the Respect Life Ministry of the Diocese of Dallas. The CPLC is a 501(c)(3) non-profit organization. Tax-deductible donations to support the life-saving work of the CPLC may be mailed to: CPLC, P. O. Box 59852, Dallas, TX 75229, or make a secure donation online at www.prolifedallas.org/pages/donations.

To subscribe to the Catholic Pro-Life Committee E-alert list, please send your request to

with your name, contact information and e-mail address and the word SUBSCRIBE on separate lines in the body of the e-mail message.