Pro-Life News and Events
Bishops Join Us for Dinner

– You're invited!
Additional Pro-Life Events

CPLC Classic Charity Golf Tournament

, Oct. 11

UD Presents "Roe's Crumbling Castle

,"

Tonight, Sept. 20; "

Natural Law, God, and Human Dignity

," Sept. 29

Hike for Life

, this Saturday, Sept. 24


St. Gabriel Pro-Life Movie Night

, this Saturday, Sept. 24


40 Days for Life Campaign Starts Next Week – Biggest Ever

Breaking Pro-Life News
Save the Dates for the two major pro-life events in 2012 with Bishop Farrell: Roe Memorial Mass and Dallas March for Life on January 21, 2012 and The Bishop's 19th Annual Catholic Pro-Life Dinner on April 14, 2012.
---
Bishops Join Us for Dinner – You're invited!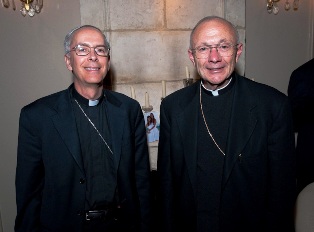 Join us for a special Evening with the Bishops on Sunday, October 2, 6 to 9 p.m. Don't miss this unique opportunity to support pro-life ministry and enjoy a glass of wine and a delicious catered buffet dinner with Dallas Auxiliary Bishops Mark Seitz and Doug Deshotel.
Ticket price is $35 each. Purchase tickets online here, or call 972-267-LIFE (5433) to place an order.
We'll gather at a poolside pavilion on the grounds of a beautiful estate in Frisco, for dining, music, door prizes, an auction, games, and inspirational words from our bishops. Proceeds from this fundraising event will benefit the CPLC's nine life-saving ministries.
Questions? Contact Tamara Baril at 214-842-1100 or . Sponsored by Our Lady of Angels, St. Francis and St. Gabriel parishes.
---
| | |
| --- | --- |
| | Additional Pro-Life Events |
11th Annual CPLC Classic Charity Golf Tournament

---
UD Presents: "Roe's Crumbling Castle" Tonight; "Natural Law, God, and Human Dignity" Next Thursday Night
Date: Tuesday, Sept. 20 & Thursday, Sept. 29


Tonight, Mr. Ramesh Ponnuru will present on the Supreme Court decision Roe v. Wade

which

made abortion available on demand in the U.S.

Mr. Ponnuru is a senior editor for the National Review and a published author. For more information, contact

David Upham

at

972-721-5186

or

. Sponsored by UD Department of Politics

*Note: To the extent this presentation includes support of or opposition to any political candidate or party, these are the personal views of the speaker. The CPLC is a non-partisan organization.*

Next Thursday night, Robert P. George

, McCormick Professor of Jurisprudence, Princeton University, will present the 2011 Aquinas Lecture "Natural Law, God, and Human Dignity". For more information, contact 972-721-5161 or .

Sponsored by UD Department of Philosophy

Events open to the public and

free

admission.


Time: 7:30 p.m.

Place: University of Dallas, Irving (main campus) in

Lynch Auditorium
---
Hike for Life this Saturday

---
St. Gabriel Pro-Life Movie Night this Saturday

Date: Saturday, Sept. 24

Showing: "

At the Death House Door

," following the 5:00 Mass at St. Gabriel. "At the Death House Door" follows the remarkable career journey of Carroll Pickett, who served 15 years as the death house chaplain to the infamous "Walls" prison unit in Huntsville, TX.

Admission is free; seating is limited.

Pizza and soda will be served.

Time: 6:00 p.m.

Place: St. Gabriel the Archangel, Youth Shack (basement)
---
| | |
| --- | --- |
| | 40 Days for Life Campaign Starts Next Week – Biggest Ever |
"This fall's campaign, from September 28 - November 6, will be the largest and longest internationally coordinated pro-life mobilization in history and you can help save lives by getting involved today."
- Shawn Carney, 40 Days for Life (Read article)
Last year, Dallas was the largest 40 Days for Life vigil in the world (4,000 strong)! We need your help to make this amazing campaign a success again this Fall. Have you adopted your prayer time for the precious unborn? If not, please sign up here today. Or if your church or organization would like to adopt a day (or part of a day), contact Vigil Coordinator Susan Platt at .
And be sure not to miss the following upcoming events during the Dallas campaign:
Kickoff Rally next Tuesday, Sept. 27, 6:30 p.m., Harry S. Moss Park: Enjoy the music of Joe Languell and inspirational speakers, including Ramona Trevino, the former manager of the recently-closed Sherman Planned Parenthood. More info (español)
Outreach Saturday, Oct. 1, 8:15 a.m. - noon, Harry S. Moss Park: Share the pro-life message in the neighborhoods surrounding the Southwestern late-term abortion center. More info

Youth Day, Saturday, Oct. 15, 7 a.m. - 7 p.m., Southwestern late-term abotion center: Experience the powerful witness of youth standing vigil for their brothers & sisters in the womb (plus a surprise, peaceful, prayerful balloon demonstration!) More info
To adopt a day of prayer or participate in Outreach Saturday or Youth Day, contact or 972-267-LIFE (5433)
www.prolifedallas.org/40days
---
| | |
| --- | --- |
| | Breaking Pro-Life News |
Planned Parenthood Closes Four Texas Centers After De-Funding
by Steven Ertelt, LifeNews.com
A Texas affiliate of Planned Parenthood will close four centers in south Texas thanks to the bill . . . revoking taxpayer funding for the nation's biggest abortion business.
Planned Parenthood Association of Hidalgo County announced over the weekend that it will close four of its centers and lay off half of its staff in response to the cuts the state legislature approved, which state pro-life groups like Texas Right to Life and Texas Alliance for Life supported. The abortion business plans to shut down centers in Rio Grande City, San Carlos, Progreso and Mission. Continue reading
*Editor's note: These four centers in South Texas are in addition to the seven Planned Parenthood facilities in North Texas, which have closed or are reportedly scheduled to close in the near future.*
---
Pro-Life Advocates to Bring Live 4D-Ultrasounds to Congress
by Steven Ertelt, LifeNews.com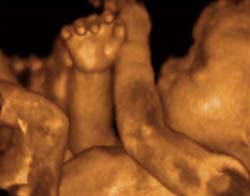 Ultrasound technology gets much of the credit when pro-life advocates point to the ways in which public opinion on abortion has moved towards the pro-life side over the last decades. Now, pro-life advocates [are taking] ultrasounds to members of Congress to show them the humanity of the unborn child. . . . "Voices from the Womb will give members of Congress the opportunity, for the first time, to 'hear' from the pre-born children of American," says Brandi Swindell, Founder and President of Stanton Healthcare. Read entire article
Have you sent your comment to Health and Human Services regarding the federal mandate for free contraceptives and sterilization? If not, click here. Deadline for comments is Sept. 30th – Let your voice be heard! Learn more.
---
| | |
| --- | --- |
| | The CPLC depends on friends like you to partner with us to save lives. Please consider making a donation to support our work. Thank you and God bless you! |
---
All together, let us build a culture of life!

Please pass this on to your friends and family!

For more information, call the CPLC at 972-267-LIFE (5433), or visit our web site: www.prolifedallas.org.
---
This message is brought to you by the Catholic Pro-Life Committee, the Respect Life Ministry of the Diocese of Dallas. The CPLC is a 501(c)(3) non-profit organization. Tax-deductible donations to support the life-saving work of the CPLC may be mailed to: CPLC, P. O. Box 59852, Dallas, TX 75229, or make a secure donation online at www.prolifedallas.org/pages/donations.

To subscribe to the Catholic Pro-Life Committee E-alert list, please send your request to

with your name, contact information and e-mail address and the word SUBSCRIBE on separate lines in the body of the e-mail message.