Commemoration of All Souls
~ May the souls of the faithful departed, through the Mercy of God, rest in peace ~
Please also join us in prayer for all those who will be seeking new life on the Spanish Rachel's Vineyard Retreat™ this weekend

CPLC Executive Director Karen Garnett to Represent Pro-Life Ministry at Rome Summit
Save the Dates for the two major pro-life events in 2012 with Bishop Farrell: Roe Memorial Mass and Dallas March for Life on January 21, 2012 and The Bishop's 19th Annual Catholic Pro-Life Dinner on April 14, 2012.
---
CPLC Executive Director Karen Garnett to Represent Pro-Life Ministry at Rome Summit
"The Spirit will truly bring about a new Springtime of Faith, if Christian hearts are filled with new attitudes of humility, generosity and openness to his purifying Grace." – Pope John Paul II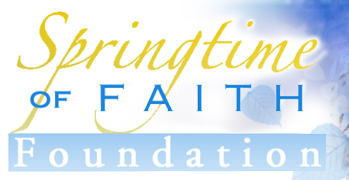 CPLC Executive Director Karen Garnett has been honored with an invitation to attend the 2011 Springtime of Faith Foundation Rome Summit – a select conference for 30 to 40 international Catholic and Christian leaders to help bring about the new evangelization.
While there, Karen will be remembering the Dallas pro-life community in her Mass intentions at St. Peter's and while praying at the tomb of Blessed John Paul II. If you have any specific prayer intentions you would like to send with her, please email them to (or hit reply to this email) by noon this Friday, November 4. Your intentions will be kept confidential.
Let's keep Karen and all Summit participants in our prayers as well. (Please note: CPLC ministry funds are not being used to cover the expenses of this trip.)
---
| | |
| --- | --- |
| | Upcoming Pro-Life Events |
40 Days for Life-Dallas Victory Celebration and Concert
Date:

Monday, Nov. 7



Join us in celebration of the hearts converted and lives saved (23 so far!) during the 40 Days for Life-Dallas campaign. The Victory Celebration will feature inspirational speakers: Bishop Mark Seitz, former abortion provider Carol Everett and Katharine Hill with LifeTalk, plus a special musical performance by world-renowned composer and pianist Eric Genuis.

Admission is free

.

There are still 5 days left in the campaign. If you haven't had a chance to experience the vigil, please join us on the sidewalk in prayer for the precious unborn! (Map and Directions here) For more information, contact or 972-267-LIFE (5433).

Time: 7:00 p.m.


Place: St. Thomas Aquinas (St. Ann Hall)
---
Christ Child Christmas Gift Market & Luncheon
---
Special Edition Life Front: An Examination of the Death Penalty

Date: Tuesday, Nov. 29

Life Front offers weekly Prayer & Teachings on Life Issues, with a monthly speaker series. This month, the CPLC and Catholic Charities are co-sponsoring a

special edition

of Life Front examining the death penalty. The presentation will focus on what it means, in the words of Blessed John Paul II, to be "unconditionally pro-life" and to "proclaim, celebrate and serve the Gospel of life in every situation." For more information and to register for this free event, visit prolifedallas.org/lifefront or contact or 972-267-LIFE (5433).
Time: 7:00 p.m.
Place: St. Joseph Catholic Church, Upper Room
---
First Friday All Night Adoration
Date:

Friday, Nov. 4 - Saturday, Nov. 5



3 HOLY MASSES (8 PM, 3 AM, 7 AM) – ADORATION OF THE BLESSED SACRAMENT – CONFESSION – ROSARIES


Join in prayer for the protection of the sanctity of life. The Cloistered Carmelites will also be praying all night, and you may leave personal prayer requests with them. There will be food and drink available in the evening.

For more information, contact or Mary Jane, 214-704-4541. Sponsored by the Discalced Carmelite Monastery.

Time: 4:00 p.m. - 7:00 a.m.

Bulletin Insert/Flyer
---
White Rose Annual Benefit Dinner

Date: Saturday, Nov. 5

Enjoy a great evening featuring fine food and an inspiring speaker: Most Rev. James Conley, Auxiliary Bishop of Denver. All to benefit the White Rose Women's Centers' continuing mission to save the unborn and assist women facing unanticipated pregnancies.

Click here for tickets and event information or call 214-824-5942. Sponsored by St. Joseph's Helpers.
Time: 7:00 p.m.
Place: Brook Hollow Golf Club, Dallas

Bulletin Insert/Flyer
---
| | |
| --- | --- |
| | Breaking Pro-Life News |
Abortion for Down's Syndrome – tragic story, review of trends and personal reflections
By Dr. Peter Saunders, National Right To Life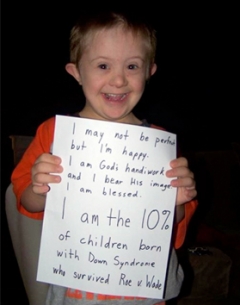 There was a tragic story in the Daily Mail yesterday titled 'Having an amnio test ruined my life'.
It relates the testimony of Marie Ideson who was coerced by doctors into having an abortion for her 16 week old baby with Down's Syndrome, a decision she now bitterly regrets. The incident led eventually not just to ongoing unresolved grief but also to the destruction of her marriage. . . .
Over the period 2002-2010 there were altogether 3,968 Down's syndrome babies aborted and now over 90% of all babies found to have Down's syndrome before birth have their lives ended in this way. Continue reading
Also of interest: Dad behind viral 'I am the 10%' Down syndrome image speaks out
---
40 Days for Life Leads to Amazing Talk With Abortionist's Wife
By Shawn Carney, LifeNews.com
"We don't know what God is doing behind the scenes. We must trust, we must pray — and we must know that our witness on the sidewalk is always part of a larger picture."
Here's a story that shows what I mean. . . . A vigil participant was noticing that nearly all the cars in the abortion center parking lot were parked in the staff area — very few were in the area reserved for those with appointments. And that was good.

The volunteer was soon deep in prayer when the abortionist drove up — with his wife and their teenager. He got out of the car and headed toward the building while the wife and teen drove away.

The abortionist's wife pulled up next to the vigil participant, rolled down her window and asked, "How are you doing?" The surprised volunteer answered, "Good! How about you?"

She responded, "I just wanted to tell you that I so appreciate what you do and how you are always so nice and respectful." That simple response turned out to be the opening line in a very lengthy conversation. Continue reading

Read inspirational experiences at the 40 Days for Life-Dallas vigil here.
---
---
| | |
| --- | --- |
| | The CPLC depends on friends like you to partner with us to save lives. Please consider making a donation to support our work. Thank you and God bless you! |
---
All together, let us build a culture of life!

Please pass this on to your friends and family!

For more information, call the CPLC at 972-267-LIFE (5433), or visit our web site: www.prolifedallas.org.
---
This message is brought to you by the Catholic Pro-Life Committee, the Respect Life Ministry of the Diocese of Dallas. The CPLC is a 501(c)(3) non-profit organization. Tax-deductible donations to support the life-saving work of the CPLC may be mailed to: CPLC, P. O. Box 59852, Dallas, TX 75229, or make a secure donation online at www.prolifedallas.org/pages/donations.

To subscribe to the Catholic Pro-Life Committee E-alert list, please send your request to

with your name, contact information and e-mail address and the word SUBSCRIBE on separate lines in the body of the e-mail message.