Reflection for Day Ten

Because all human beings possess equal dignity, value, and worth, the government is to ensure that this equality is maintained both for the good of the individual and for the good of society as a whole. This equality specifically should not be violated on religious grounds. Each religious body and the members of that body have equal rights to religious liberty. This equality demands that there be no discrimination based upon one's religious beliefs.
The Council Fathers now stress that, based upon this equality among its citizens, no government is permitted to impose in any way "the profession or repudiation of any religion." Such an imposition is a violation of the right to be true to one's conscience. Because of the

freedom of

conscience, the government is also not permitted to deny a person the right to join or leave a religious body. The government has no right to stipulate what a person can or cannot believe.
If the above is true, then the Council states that it is all the more wrong when "force is brought to bear in any way in order to destroy or repress religion." This not only applies to governments but also to religious bodies themselves. No religious body is permitted to harass or seek to eliminate another religious group.
Within our contemporary world, where is religious equality denied or religious discrimination tolerated? Are there instances where one religion violates the rights of other religions?
Reflection for Day Eleven

The Council Fathers are well aware that, while various religious groups are meant to live in harmony, each accepting the equal rights of others, yet, in reality, conflicts frequently arise between various religions. This may be due to what a specific religion holds concerning the nature of its own beliefs in relation to the beliefs of other religions. While each religious group has the right to profess that its religious beliefs are true and that other religious beliefs

are either

inadequate or contain erroneous tenets, no religious group has the right to persecute or seek to suppress other religious groups. Similar conflict may arise within a religion, in which case, the cause of the conflict does not reside in the religious belief as such, but in a misinterpretation of those beliefs that prompts misguided attacks on other religious groups.
Given the reality of such religious conflicts, the Council Fathers acknowledge that the government is responsible for keeping public order, not by taking sides, but by enacting just laws and guarding the equal rights of all.
What causes religious conflicts today? Do governments always adequately respond to such conflicts? What distinguishes "public order" (which limits religious freedom) from an ordinary policy preference of government (which does not)?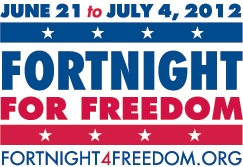 Don't miss the special diocesan Fortnight event tonight! (click here for details)

For information on Fortnight for Freedom events in the Diocese of Dallas
please visit dallascatholicadvocacy.org.

If you would prefer not to receive these daily reflections during the Fortnight (June 21 - July 4), please .