Rave Reviews for New Pro-Life Curriculum
By Patty Sherrod, CPLC Director of Ministries
Several years ago a partnership began between the CPLC and St. Francis of Assisi Anglican community, grounded in three things: the Gospel of Jesus Christ, fidelity to the teaching authority of the Church, and the sanctity and value of every human life. So when St. Francis Parish Pro-Life Coordinator Kevin McNevins gave the CPLC a copy of a new adult curriculum entitled Project Life, we were encouraged by its potential for Catholic parishioners. It is well thought-out, deeply grounded in Scripture and Church teaching, and organized in a format appealing to the average person.
Designed in 2010 by Anglicans for Life President Georgette Forney, the curriculum was intended for use in Episcopal and Anglican communities in the U.S. Seeing the potential for a wider Christian audience, Forney welcomed the CPLC's enhancement of the document, which already relied heavily on Blessed Pope John Paul II's landmark encyclical Evangelium Vitae, with additional resources and references, particularly from the Catechism of the Catholic Church and other papal encyclicals.
Assisted by CPLC Speakers Bureau Director Sheree Havlik and Education Coordinator Jan Storey, we studied the texts, viewed the DVDs and began the adaptation of this core curriculum for Catholic parishioners. Impressed with this new teaching tool, Bishop Deshotel graciously offered St. Joseph in Richardson to host the pilot series as part of his parish's 2012 Lenten education program.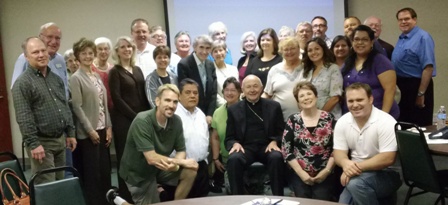 Bishop Deshotel Project Life 2012 Pilot Class
Each session of the 8-week curriculum covered different topics including abortion, the culture of death, abortion aftercare-healing, adoption, unanticipated pregnancies, chastity, end-of-life issues, bio-ethics and pro-life advocacy. The two-hour class format included prayer, Scripture study, DVD presentations, featured guest speakers and opportunities for personal comments and reflection.
After all the planning and promoting, we hoped the Catholic community would embrace this new educational tool. Happily, our opening evening exceeded our expectations and prompted us to order even more course materials! The weekly classes brought regular attendees as well as new faces; ultimately two dozen students completed the entire 8-week course. Possibly the best evidence of the success of the Project Life pilot are the comments of our attendees:
Very informative; I sure hope we can implement this in our parish.
Thank you; great material and fellowship. Fun and 'functional' too!
The whole program was amazing. I wish there were more like it.
God bless you. I was greatly enriched by it all.
It is our hope that parishes across the diocese will adopt this much-needed curriculum to help better inform and equip their parishioners to witness to the sanctity of life. With the tools provided by this educational series, we can be better prepared to share the Gospel of Life not only in our church but in our community as well.
Over the summer, we will continue to refine and improve the curriculum, including additions regarding marriage and
contraception. If you would like to learn more about Project Life and how to bring it to your parish, visit
prolifedallas.org/projectlife or contact me at 972-235-5554 or .