Exodus 2013: Thou Shalt Not Kill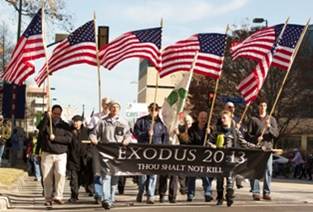 The 2013 Roe Memorial Events on January 19 were a remarkable day for Life, offering prayers for the 53 million lives lost to the tragedy of abortion and marching and rallying for an "exodus" of abortion from our community. The theme of this year's events was "Exodus 20:13: Thou Shalt Not Kill." As Bishop Farrell explained, it is a "fitting reminder from Almighty God in the year 2013, the 40th year of the legalized killing of the unborn, that life is sacred and must be protected and that the killing must end."
The morning began with a Jericho Walk around Routh Street abortion center, with Bishop Mark Seitz, Vicar for Clergy Msgr. Greg Kelly, and Fr. Kyle Walterscheid of the University of North Texas joining in prayer. Following the rosary, the Roe Memorial Mass, attended by over 3,000 (overflowing into the Grand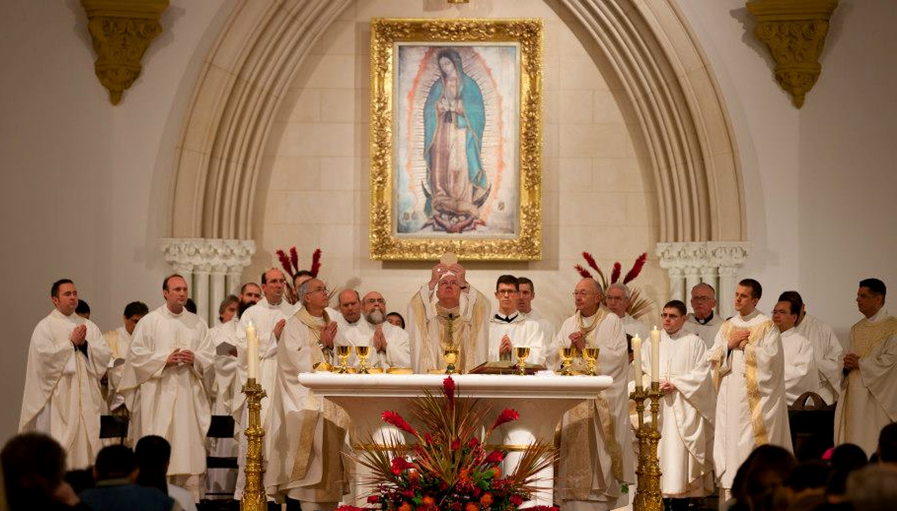 Salon and the Cathedral Plaza), was concelebrated by Bishops Kevin Farrell, Doug Deshotel and Mark Seitz and diocesan clergy. Fr. Zach Webb delivered the homily, reminding us that changing the law is not enough; we must devote ourselves to converting hearts through God's love to embrace life.
After Mass, and a parallel worship service at First Baptist, over 10,000 people took to the streets to March for Life and rally outside the Earle Cabell federal courthouse where Roe was first filed in 1970. During the Rally, Bishop Farrell challenged attendees to be activists not just on the anniversary of Roe v. Wade, but throughout the year. Bishop Farrell's call to action was followed by the inspirational words of Richard Ellis, radio host and Reunion Church pastor; New Wave Feminists founder Destiny Herndon-De La Rosa; Chris Wheel of the Fatherhood Ministry at Oak Cliff Bible Fellowship; and Fr. James Flynn of the Fort Worth Diocese, plus the powerful testimony of abortion survivor Angela Martinez Balderaz.
Visit prolifedallas.org/roe to view pictures and video of the day's events. And be sure to save the date for the 2014 Roe Memorial Events on January 18. Bishop Farrell has decided that the 2014 Roe Memorial Mass will be held in the Dallas Convention Center to accommodate the ever-growing crowd!
Your donation saves babies!
Your 100 percent tax-deductible gift is critical to equipping the Catholic Pro-Life Committee to fulfill our mission in furthering the Gospel of Life in the Diocese of Dallas and beyond.
We reach out to help an average of more than two mothers a day to choose life instead of abortion.
You may make a donation online at www.prolifedallas.org/donate.

Life Matters is a publication of the Catholic Pro-Life Committee of North Texas, the Respect Life Ministry of the Diocese of Dallas.
Karen Garnett, Executive Director
Becky Visosky, Director of Communications
Send comments and questions to: .
CPLC ● P.O. Box 59852 ● Dallas, TX 75229
972-267-LIFE ● www.prolifedallas.org
Building a Culture of Life in North Texas