Reaching Out to Men Who Are Suffering
By Eileen Kuhlmann, Abortion AfterCare-Healing / The Rachel Ministries Director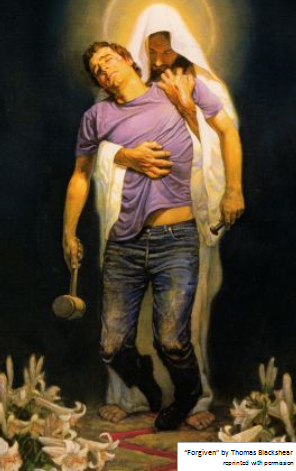 An abortion not only takes the life of the unborn child, it also violates a man's natural instinct to protect and provide for his children. Men need to be able to grieve the loss of their aborted child, yet so many times they hold that suffering deep within, never expressed verbally. Often their pain surfaces in many unhealthy ways.
No one thinks the man is affected at all. He's not pregnant. He doesn't undergo the surgery. He's physically whole and never even has to meet the abortionist. No one thinks he feels any pain at all... except any other man who's been through it. (male post-abortion testimony)
Whatever their role in the choice to abort – passive silence, supporter, or even unknowing – forgotten fathers suffer under the burden of past abortions just as women do. They often experience shame, guilt, grief and depression. Some men are plagued with fear of making decisions and taking risks, as well as feelings of unworthiness and impotence. They yearn to be the head of their home, but feel unable to do so. Their relationships suffer, and in an effort to control the uncontrollable, they may act out, including bouts of rage, substance abuse, and sexual addictions.
Christ's love is the only real salve for these wounds. As a Church, we have responded with an expanding post-abortion ministry. For many years, however, this ministry has focused primarily on women. Here in Dallas, CPLC's Abortion AfterCare-Healing Ministry offers six annual Rachel's Vineyard™ Retreats bringing God's forgiveness, mercy and compassion to women and men.
But over time, it has become apparent that while women and men may both experience post-abortion trauma, the path to healing may not be the same. Not all men have lived their abortion story in a way that leads them to seek healing on a weekend-long retreat with women. Men do not typically reach out as women do. They tend to compartmentalize their emotions.
As a man this is something we don't talk about, even with our closest friends. For years I privately carried the guilt, shame and regret over the loss of my child. (male post-abortion testimony)
In response to this unique need, the CPLC has expanded its post-abortion ministry to include a new outreach just for men: Project Joseph. With its one-day retreat structure, Project Joseph allows men to reconcile with God, release their burden and reclaim their fatherhood through a unique process designed for men and led by men. The inaugural retreat was held on May 31 and will repeat annually, along with the continuing Rachel's Vineyard™ Retreats throughout the year.
It is very important to open wide the doors of healing, not only to the women who have suffered this trauma, but to the men as well. It is our hope and prayer, that this new outreach named for St. Joseph — the diligent Protector of the Christ Child — will further the reach of Christ's merciful love to those who need it most.