In Loving Memory of Pro-Life Servant Ed O'Brien, Ph.D.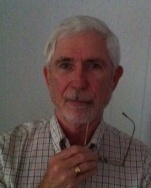 Edward James "Ed" O'Brien, III – husband, father, counselor, patriot – died peacefully on Thursday, July 18, at the age of 73, surrounded by his family. Dr. O'Brien was a volunteer counselor for The Rachel Ministries / Abortion AfterCare-Healing, serving men and women suffering from the pain of abortion. "Ed brought the 'heart' to our mental health team serving on Rachel's Vineyard™ Retreats," said The Rachel Ministries Director Eileen Kuhlmann. "He used few words, yet his big smile and always present heart were enough for so many to know that they were loved and accepted by God."
Before becoming a marriage and family counselor, he served his country for 24 years in the Navy, retiring with the rank of Commander. In hopes of following his true passion of helping others, he sought and received his Ph.D. in Marriage and Family Therapy from Texas Woman's University in 2002. He was an integral member of the St. Rita Catholic Community and a tireless advocate of faith-centered marriages. His dedication was further witnessed through his unceasing devotion to his surviving spouse of 50 years, Sandra S. O'Brien, and his children, their spouses and families, including 15 grandchildren. We are so grateful for his service, and miss him dearly. May his soul and the souls of all the faithful departed through the mercy of God rest in peace.
Special thank you to all who made a life-giving donation in memory of Dr. O'Brien
Daniel & Kathleen Becker, Evan Campbell, Jimmie Collins, Paul & Gabrielle Comeaux, Linda Corti, Joseph & Patricia Cribbin, Dr.Frank & Patti Crumley, William & Rosemary Currie, Dr. William & Susan Cushman, Howard & Nancy De Witt, Patrick & Dianne Doyle, Charles & Jane Faber, Christopher Farha, Patrick Feuerborn, Glenn & Eileen Georgia, Steven & Sandy Green, Mrs. Lidwina Hall, Bart & Teri Hanners, William & Carol Hill, Ron & Mary Lee Hull, Joan Hull, Thomas Hutter, Inferno, LLC, Charles James, June LaPlante, Jane Lewis, Liz Burgess Media, Robert & Diane Maguire, Tim Mashburn, James & Barbara McCarthy, Danny & Patricia McDonnell, Mr. & Mrs. James McManigal, Carl & Theresa Motter, Robert & Sharon O'Brien, Ed & Carol Perez, Stephen Perez, Thomas & Connie Pritchett, Tim Sellers, Lynn Shadyac, Bill & Mary Sladek, Marianne Sondak, Roger & Marianne Staubach, Don & Mary Jane Thorpe, Carolyn Uber, Lawrence & Janis Vache, Daniel & Cynthia Vanelli, Michael & Cynthia Washlesky, Sarah A. Williams, Mickey Woodham, Youth Villages Foundation
Your donation saves babies!
Your 100 percent tax-deductible gift is critical to equipping the Catholic Pro-Life Committee to fulfill our unique mission in furthering the Gospel of Life in the Diocese of Dallas and beyond.
Every year we reach out to help an average of more than two mothers each day to choose life instead of abortion – 965 chose life in 2013!
You may make a donation online at
www.prolifedallas.org/donate.
Life Matters is a publication of the Catholic Pro-Life Committee of North Texas, the Respect Life Ministry of the Diocese of Dallas.
Karen Garnett, Executive Director
Becky Visosky, Director of Communications
Send comments and questions to: .
CPLC ● P.O. Box 59852 ● Dallas, TX 75229
972-267-LIFE ● www.prolifedallas.org
Devoted to ending abortion and restoring respect for life.