Conference Brings Hope and Healing

By Lacy de la Garza, Rachel's Vineyard™ English Retreat Coordinator
This past November, the Catholic Pro-Life Committee hosted the Post-Abortion Pastoral and Professional Conference, offering insight to the effects of abortion on women, men, and their families. The two-day conference addressed the simple question, "How can we help?" Experts in post-abortion trauma provided the ministerial and therapeutic response to the growing need to assist those hurting from an abortion. Attendance exceeded 200, including local clergy, mental health professionals, and interested laity from Dallas, Fort Worth, Houston, Austin and San Antonio.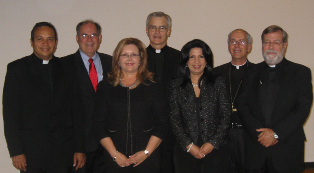 The keynote speaker of the conference was Dr. Vincent Rue, founder of the Institute for Pregnancy Loss based in Jacksonville, FL. He was joined by Fr. Paul McNellis, SJ, professor of philosophy at Boston College and respected priest in post-abortion ministry. These renowned guest speakers were joined by Dallas-area priests and therapists supporting local post-abortion ministry, including Bishop Mark Seitz, Auxiliary Bishop of the Dallas Diocese; Fr. Greg Kelly, Vicar for Clergy; Fr. Wilmer Daza, Pastor of Nuestra Señora del Pilar; Diana Morin, founder of Discoveries Christian Counseling; Rebecca Calvo, bilingual crisis counselor; and Dr. Ed O'Brien, marriage and family therapist at St. Rita Pastoral Center.
Each of our presenters touched on the necessary connection between abortion and the need to heal. Dr. Rue, a long-time academic involved in the scientific research community, explained a phenomenon he referred to as "Baby on the Brain": "The fetal child is transplanted from the womb to the brain," becoming an "unwanted" presence that seeks reunion with his or her mother. This is only one aspect of grief that a woman who has had an abortion experiences. Revealing the source of her grief allows a woman to reconnect with her lost child, a need that is addressed in attending a Rachel's Vineyard™ Retreat.
The conference also addressed the theological questions and pastoral challenges of post-abortion healing. While speakers spoke to the needs of all post-abortive persons regardless of faith, our guest clergy illuminated the beauty of a Catholic-focused ministerial response. Fr. McNellis reminded us of the gift Catholics have in the Sacrament of Reconciliation and the power of hope triumphing over despair, for "God did not make us to follow Judas; He made us to follow Peter." Bishop Seitz discussed in detail the Church's teaching on the soul of the aborted child, consoling us in the knowledge that these children are entrusted to Christ's care, who said in His ministry on earth, "Let the little children come to me."
The conference is possibly best summed up by the comments of those who attended:
"The whole conference was outstanding."

"I feel more informed in helping someone who may be going through the trauma of post-abortion."

"The conference was a wonderful opportunity to receive
. . . training from national and regional experts."
It is our hope and prayer that this conference will lay a foundation for more clergy and health professionals to be a part of and refer to The Rachel Ministries, and our devoted supporters will remember this ministry in their prayers.
For more information, visit racheldallas.org or contact 214-544-CARE (2273) or for assistance in English and 972-679-4760 or for assistance in Spanish. All inquiries are kept strictly confidential.