A Whole New Kind of Pro-Lifer

By Katie Green, CPLC Development Assistant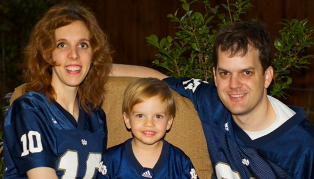 The day my son was born, my husband and I welcomed a bundle of blessings – a big bundle at that! He was a whopping 9 pounds! To the nurses, he was huge, but to me, everything seemed so small. There he was, all his little parts tucked up into a teeny little blanket. My perfect, beautiful Benjamin.
Having your first child, as many of you know, is so miraculous. I'm exceedingly grateful that Benjamin was conceived during an age when we could see our little "boxer" as he punched away just 9 weeks after conception. God's continuous revelation, through advancing technology, has given us a tangible picture of what life looks like, even at the very beginning. Since that day, I became a whole new kind of "pro-lifer." I had seen the beginnings of my own little person, and felt flabbergasted that some people would dare tell me that my little "boxer" did not deserve a legal right to live.
I joined the CPLC because of what Benjamin showed me about life in the womb and the family-friendly environment the
organization provides. I also owe my marriage to the pro-life mission, since my husband was placed for adoption in an era when his birth mother, if she had chosen, easily could have made a different decision.
I learned about the job opening in the CPLC's Development Department after joining Project Gabriel, a CPLC ministry which mentors and supports mothers facing unexpected pregnancies. Since joining the staff a couple months ago, I have been amazed by my colleagues' level of commitment and the CPLC's breadth of activity in the battle for life. One of the initial examples I saw firsthand was the record number of babies – and mothers – saved from the horror of abortion during the 40 Days for Life-Dallas campaign sponsored by the CPLC. In addition, I witnessed a poignant testimonial by a Rachel's Vineyard™ retreatant who found healing, and I enjoyed meeting nationally recognized speakers for the recent Post-Abortion Pastoral and Professional Conference sponsored by the CPLC. And most recently the CPLC co-sponsored the Roe Memorial Events, marking the 40th anniversary of Roe v. Wade, with thousands in attendance.
These are just the things I have seen thus far! The event I am most looking forward to is our annual Bishop's Pro-Life Dinner, set for April 6 at the Irving Convention Center, where we will celebrate 20 years of saving lives! (More details here.)

I'd like to conclude with a word of thanks to the CPLC for inviting me to join this holy and powerful ministry, and to you, our dedicated supporters, for being the fruit on the tree of life which the Holy Spirit planted and the CPLC waters. My life has already been changed by the committed people I have met and the experiences of those we serve.
And as a Notre Dame grad, I can now say I'm no longer just a "Fighting Irish," but "Fighting For Life."