TONIGHT: Boot Camp 2012

Planning Meeting

, 7:00 p.m. at La Madeleine, 6430 N. MacArthur Blvd., Irving
Boot Camp 2012 is going to be here before we know it and there is a lot of planning to do! The theme this year is Should We Boldly Go Where No Man Has Gone Before? If you can help us prepare and send our youth on this bold journey, join us tonight!
Help is especially needed in the following areas: Accounting, Promotions, Registration, Check In/Check Out, Service Day Coordinator, Transportation, Safe Environment, Security and Volunteers, Hospitality Bags, Chaperone Coordinator, Jr. Staff Coordinator and Donations.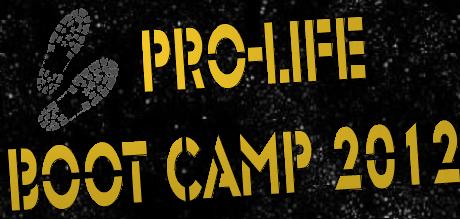 TUESDAY, FEBRUARY 28

: YFL Leadership Council February Meeting, 7:30 p.m. at the Catholic Pro-Life Committee office, 14200 Midway Rd., Suite 120, Dallas
The Youth For Life Leadership Council welcomes adults interested in planning and chaperoning youth pro-life events throughout the year. Together we'll stay informed about pro-life current events and strategize on how to engage today's youth in the fight to end abortion. Join us next Tuesday to learn how you can help form the young pro-life leaders of today!