Joy and Sorrow this Easter
April 24, 2019

He is risen indeed! Hope you had a blessed Easter Sunday and are filled with joy this Easter Octave! Over 30,000 people were welcomed into the Church at the Easter Vigil, and that was just in the United States! The early church didn't usually have daily mass, but the Easter Octave had a special Mass for every day of the week, which helped to explain the faith to the newly baptized. They were reminded that their salvation was purchased at a tremendous cost.
St. Augustine wrote that the Easter Octave represented a "unanimous practice" of the Church, as ancient as Lent. During that time, the faithful had to abstain from work and go to Mass. The new Christians wore their white baptismal garments all week. The eighth day, White Sunday (also called Low Sunday to distinguish it from Easter), was the day they put away those robes. St. John Paul the Great added the name "Divine Mercy Sunday." But wait! There's more! The Easter Season lasts for 50 days, ending at Pentecost, the birthday of the church. Until then, we celebrate the Solemnity.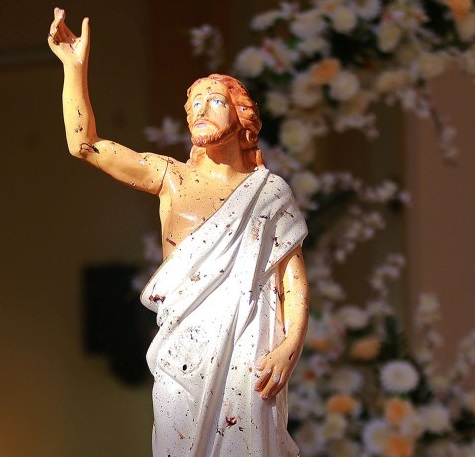 Statue of Christ with blood stains after bomb blast in
Sri Lanka on Easter Sunday (Stringer/Reuters)
I'm sure you've all heard the terrible news about the Easter bombings of Christian churches and hotels in Sri Lanka. The death toll, including children who were to receive first communion, is now over 300 with over 500 people injured. One of our Gabriel Moms, Angel, has family in Sri Lanka; the main bomb exploded in the church of her husband's brother-in-law. He and several family members and friends were killed.
Please keep Angel, her family, and all those in Sri Lanka in your prayers. Please join us as we urge God's mercy on all those injured or killed. Let us also pray for those responsible that their hearts will be converted, and they will repent what they have done.
Reflection by Susan Platt, Prayer and Community Outreach Director
Tags: easter
Add Comment:
Would you like to be notified when a comment is added?