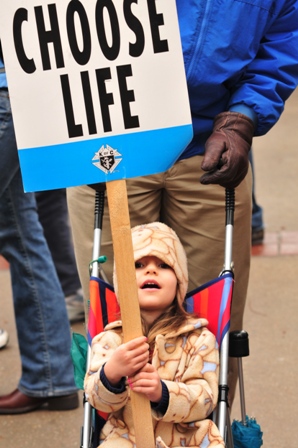 On January 21, 2012, Dallas will mark the 39th anniversary of the U.S. Supreme Court's tragic Roe v. Wade decision of January 22, 1973, making abortion available on demand in America through all 9 months of pregnancy and leading to the death of over 52 million unborn children. Join Dallas Bishop Kevin J. Farrell and Fort Worth Bishop Kevin W. Vann, diocesan clergy and thousands of people of faith to pray for an end to the scourge of abortion on our city and country, to witness publicly, and rally and march for a Culture of Life.
Below is a tentative schedule of events:
7:30 a.m. Roe Memorial Rosary: Board shuttle buses at the Cathedral Shrine of the Virgin of Guadalupe, 2215 Ross Ave. at Pearl St., for the Roe Memorial Rosary, to be prayed at the Routh Street abortion center, 4321 N. Central Expy. at Fitzhugh in Dallas. Rosary will be prayed from 7:45-8:45 a.m., with all pray-ers back to the Cathedral by 9:00 a.m.
10:00 a.m. Roe Memorial Mass & Adoration: A bilingual Mass will be concelebrated by the Most Reverend Kevin J. Farrell, Bishop of Dallas; the Most Reverend Kevin W. Vann, Bishop of Fort Worth; Dallas Auxiliary Bishops Doug Deshotel and Mark Seitz, along with diocesan clergy at the Cathedral Shrine of the Virgin of Guadalupe, 2215 Ross Ave. at Pearl St., Dallas. A representative born each year from 1973-present is needed to carry a rose in the annual "Procession of Roses" at Mass. If you were born in 1973 or later and are interested in participating in the Procession of Roses, please contact the CPLC office at 972-267-LIFE (5433) or email .
Dallas March for Life & Rally – the State's largest Pro-Life Rally and March in memory of Roe v. Wade: Following Mass, Bishops Farrell and Vann will lead us as we march from the Cathedral to the rally in front of the Earle Cabell Federal Courthouse, housing the district court where the Roe v. Wade case was first filed in 1970.
Don't miss this annual event for Life!! Last year, approximately 10,000 prayed and marched for life. Bishop Farrell would especially like to see many young people participating (from parish youth groups, Catholic high schools, Scout troops, etc.). Bring your school, club or troop banner for the march! Also – Consider riding DART Rail to the Roe Memorial Events this year to save time parking! The Pearl Station is just two blocks from the Cathedral. For more information on the day's events, visit , email cplc@prolifedallas.org, or call 972-267-LIFE (5433).
---
¡Únase con Obispos Farrell y Vann y miles de los fieles de Dallas en oración para terminar el látigo de aborto en nuestra cuidad y para marchar y reunirse para una Cultura de Vida!
Calendario Provisional de Eventos:
7:30 a.m. Rosario del Memorial de Roe: Abordar autobuses en Catedral Santuario de la Virgen de Guadalupe, 2215 Ross Ave. en Pearl St. para orar en el centro de aborto Routh Street, 4321 N. Central Expy. en Fitzhugh en Dallas. Rosario será orado de 7:45-8:45 a.m., con todos orantes de regreso a la Catedral a las 9:00 a.m.
10:00 a.m.: Misa del Memorial de Roe: Una Misa bilingüe será concelebrada por el Reverendísimo Kevin J. Farrell, Obispo de Dallas; el Reverendísimo Obispo Kevin W. Vann, Bishop de Fort Worth; y clero diocesano en la Catedral del Santuario de la Virgen de Guadalupe, 2215 Ross Ave. en Pearl St., Dallas. Un representante nacido cada año desde 1973-presente se necesita para cargar una rosa en la "Procesión de Rosas" anual en Misa. Si nació en 1973 o más tarde y está interesado en participar en la Procesión de Rosas, por favor comuníquese Aurora Tinajero, 972-639-0259, o .
Marcha & Reunión por Vida Dallas – la Reunión & Marcha Pro-Vida más grande del Estado en memoria de Roe v. Wade: Siguiendo Misa, Obispos Farrell y Vann nos llevarán para a la reunión enfrente de la Corte Federal Earle Cabell mientras marchamos desde la Catedral, alojando la corte del distrito donde el caso Roe v. Wade fue primero archivado en 1970.
¡¡No se pierda este evento anual por Vida!! El año pasado, aproximadamente 10,000 oraron y marcharon por vida. Obispo Farrell quisiera ver especialmente a muchas personas jóvenes participando (de grupos de jóvenes parroquiales, preparatorias Católicas, tropas de Exploradores, etc.). ¡Traiga a su bandera de escuela, club o tropa para la marcha! ¡También – Considere montarse en DART Rail a los Eventos del Memorial de Roe este año para ahorrar tiempo estacionándose! La Estación Pearl es tan sólo a dos cuadras de la Catedral. Para más información de los eventos del día, visite o contacte a Aurora Tinajero al 972-639-0259 o a .