(español)

The Bishop's 19th Annual Catholic Pro-Life Dinner
The Most Reverend Kevin J. Farrell invites you to attend The Bishop's 19th Annual Catholic Pro-Life Dinner: "That They Might Have Life," benefiting the Catholic Pro-Life Committee.
The evening begins with a Private Reception, Exhibits and Wine Pull at 5:00 p.m. and a seated banquet at 6:30 p.m., featuring actor and recording artist John Schneider, who is starring in two pro-life films this year: Doonby & October Baby. This event raises critical funds for life-saving services for babies and mothers, youth and adult pro-life education and post-abortion healing retreats.
Reservation price is $100 for an individual seat ($125 after April 5 - extended date), and tables of ten start at $1,000 ($1,250 after April 5. Ticket price includes parking in the adjacent garage and convenient overflow parking with shuttle. Premium tables with private reception tickets are available for $2,500 and up. Raffle tickets for a chance at a $15,000 American Express gift card (subject to tax), a 4-day cruise or a BlackBerry® PlayBook Tablet are on sale for $25 each, 3 for $50 or 8 for $100.
Credit card reservations may be made online at prolifedallas.org/dinner or by phone, 972-267-LIFE (5433). Table numbers will be emailed in advance to replace on-site registration. Spanish translation headsets will be available. Don't miss this spectacular annual event for Life!
Dinner Flyer - English
Raffle Flyer - English

---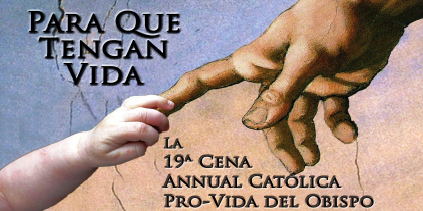 El Reverendísimo Kevin J. Farrell le invita a que asista a La 19ª Cena Anual Católica Pro-Vida del Obispo: " Para Que Tengan Vida," beneficiando el Comité Católico Pro-Vida.
La tarde empezará con una Recepción Privada, Exhibiciones y Sorteo de Vino a las 5:00 p.m. y una cena sentada a las 6:30 p.m., presentando al actor y cantante John Schneider, estrella de las dos películas pro-vida de este año: Doonby & October Baby. Este evento recauda fondos críticos para servicios que salvan vidas a bebes y mamas, educación pro-vida para jóvenes y adultos y retiros de sanación post-aborto.
Precio de reservación es $100 por asiento individual ($125 después del 5 de Abril), y mesas de diez empiezan en $1,000 ($1,250 después del 5 de Abril). El precio del boleto incluye estacionamiento en el garaje adyacente y estacionamiento conveniente de desbordamiento con transporte shuttle. Mesas Premium con boletos de la recepción privada son disponibles por $2,500 y más. Boletos de rifa para una oportunidad de una tarjeta de regalo American Express de $15,000 (sujeto a impuesto), un crucero de 4 días o una Tableta de Juegos BlackBerry® están a la venta por $25 cada uno, 3 por $50 o 8 por $100.
Reservaciones por tarjeta de crédito se pueden hacer en línea en prolifedallas.org/dinner o para asistencia en español llame al 972-262-5137 extensión 23. Los números de sus mesas serán enviados por correo electrónico por adelantado para reemplazar registración en-sitio. Auriculares de traducción en español serán disponibles. ¡No se pierda este evento espectacular anual por la Vida!