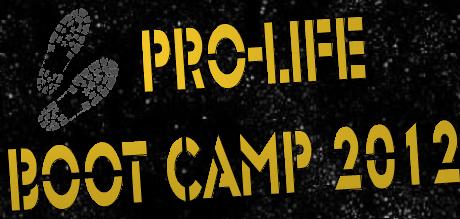 July 27-31: YFL Pro-Life Boot Camp is for high school students, ages 14-17. The theme this year is Should We Boldly Go Where No Man Has Gone Before? Featured speakers for Session 2 are Fr. Tad Pacholczyk, Ph.D. ("Fr. Tad"), Director of Education for the National Catholic Bioethics Center, and TOBET, the Theology of the Body Evangelization Team. Featured activities for this camp will be special pro-life apologetics talks and a day of pro-life service.
Final registration deadline is July 20, and no registrations will be accepted after this date. Online registration at prolifedallas.org/bootcamp is the only registration method available for this camp.
Boot Camp Session 2 prices:
Youth Late Registration (June 12 to July 20): $260
Chaperone: $115
Out of Diocese Fee: $10 additional per person.
Chaperones needed (21+). Staff training for this camp is July 26.
Brochure
For more information on the Youth For Life Boot Camp Session 2, contact Youth For Life Director Jacquelyn Smith, 972-416-9591 or .