Demand Protection of the Church and Her People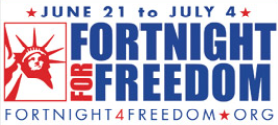 Online Resources:

Religious Freedom website: www.firstamericanfreedom
**TEXT "Freedom" to 377377 to defend your right to live your faith**

Help Save Our Religious Freedom - with new texting option (español)

---
Support Respect for Rights of Conscience Act
The Obama Administration's contraceptive/abortifacient/sterilization mandate will begin to be enforced against nonprofit religious schools, charities and health care providers on August 1. In the days to come, Congress must decide whether to address this problem through must-pass legislation before that deadline. Members of the House should be urged to co-sponsor the Health Care Conscience Rights Act (H.R. 940), and to include it in the next bill needed to keep the federal government operating. Please act today to protect conscience rights and religious liberty!
Under the new health care law, the U.S. Department of Health and Human Services (HHS) requires most health plans to cover "preventive services for women," including services that many citizens find objectionable for moral and religious reasons. These objectionable services include sterilization, FDA-approved birth control (such as the IUD, Depo-Provera, 'morning-after' pills, and the abortion-inducing drug Ella), and "education and counseling" to promote these to all "women of reproductive capacity," including minor girls. The HHS mandate allows only a very narrow exemption for a "religious employer."
On February 1, HHS released a new "proposed rule" that goes into greater detail on the "accommodation" but continues to allow only a very narrow exemption, chiefly aimed at what it calls "houses of worship." Other religious organizations offering education, health care and charitable services to all in need do not qualify for the exemption. There is no exemption or delay for individuals, or for businesses owned and operated by individuals with moral or religious objections.
For more information on religious liberty and conscience rights, see: www.usccb.org/conscience.
---
ACTION: Stand in solidarity with our Bishops in defense of our religious freedom and conscience rights by:

1. Committing yourself to prayer and fasting "that wisdom and justice may prevail, and religious liberty may be restored" and

2. Calling your 2 U.S. Senators and Representative (click here to send e-mail) and urge them to take action to protect conscience rights and religious liberty! (Additional Congressional contact info can be found on Members' web sites at: www.senate.gov and www.house.gov.)
MESSAGE: Please co-sponsor the Health Care Conscience Rights Act (H.R. 940), and include it in upcoming 'must-pass' legislation. Government must not force Americans to violate their religious and moral beliefs on respect for life when they provide health care or purchase health coverage.
Don't know who represents you? Click here to find your U.S. Senators and Representative.
---
1/26/12 Letter from Bishop Kevin J. Farrell to All Dallas Diocese Catholics

"My brother bishops and I cannot—will not—comply with this unjust law."

Dear Brothers and Sisters in Christ:

I write to you concerning an alarming and serious matter that negatively impacts the Catholic Church in the United States and strikes at the fundamental right to religious liberty for all citizens of any faith. . . .

The U.S. Department of Health and Human Services announced last week that almost all employers, including Catholic employers, will be forced to offer their employees' health coverage that includes sterilization, abortion-inducing drugs, and contraception. Almost all health insurers will be forced to include those "services" in the health policies they write. And almost all individuals will be forced to buy that coverage as a part of their policies. . . .

In so ruling, the Administration has cast aside the First Amendment to the Constitution of the United States, . . . [and] denies us as Catholics our nation's first and most fundamental freedom, that of religious liberty. Read entire letter here. (en español)
---
All U.S. Dioceses have issued statements in opposition to the HHS Mandate. Links to statements and articles below:
US Conference of Catholic Bishops
Texas Catholic Conference
North Texas Bishops (Dallas & Fort Worth)
Other Texas Bishops
Additional Statements by Bishops