Adopt a Hopeful
Each month in Dallas, approximately 20 women leave an abortion facility still pregnant and unsure of
whether or not they will choose life for their unborn children.
Every hour, every prayer counts.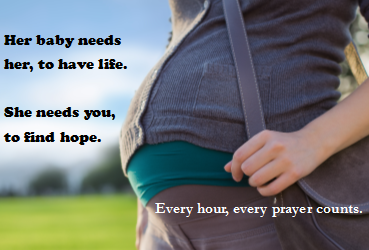 For a $25 donation, one of our trained staff sidewalk counselors will hand-deliver a card with your name, letting the mother know that she is being prayed for. The mother will also receive a beautiful Miraculous Medal. You can give a one-time donation to spiritually adopt a mother, or adopt a mother each month with an ongoing $25 donation.
The donation will cover the special Miraculous Medal, the personal prayer card for the mother, and ongoing support for the Convert-to-Life / Sidewalk Counseling Ministry. We will be sure to alert you when your card has been given to a mother in need.
Ready to give hope to a mom in need? Please make your adoption below:
---