Diocesan Fortnight for Freedom Events hosted by
Immaculate Conception and St. Rita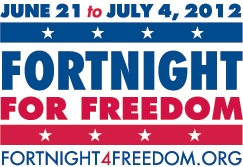 The bishops called for a "Fortnight for Freedom," a 14-day period from June 21 to July 4 of prayer, education and action in support of religious freedom. The Dallas Diocese is joining dioceses nationwide in events highlighting the importance of defending our religious freedom.
On June 24, Immaculate Conception hosted the diocesan Spanish-speaking Fortnight event, beginning with Mass celebrated by Pastor Douglas Zavala followed by a program presented by Aurora Tinajero, the Diocesan Coordinator of the Congreso Hispano de las Americas para Respeto a la Vida y Evangelización. On June 30, St. Rita hosted the diocesan English-speaking event, beginning with Mass celebrated by Monsignor Robert Coerver, V.F., followed by an educational program presented by Frank Valenzuela of the St. Thomas More Society, the Catholic Lawyers' Guild of the Diocese of Dallas.
Both events were a great success with over 400 people in attendance. If you missed Monsignor Coerver's rousing homily, you can read it here.
Please continue to pray for the protection of our religious liberty and the freedom of conscience of all people of faith.