SAVE THE DATE:
2020 Roe Memorial Events on January 18
Thank You, Pro-Life North Texas!!

On January 19, 2019, thousands of North Texans prayed and marched for a better world -- a Post-Roe World -- where women and their children are valued, families are supported, and life is held sacred from beginning to end.
With standing room only, Mass-goers filled the Cathedral to begin the day with Our Lord. Principal celebrant Bishop Burns was joined by Bishop Greg Kelly, Fr. Stephen Biershenk, and many more priests, deacons and seminarians. Bishop Burns delivered a powerful homily about sacrificial love and the call to model that love in our defense of life:
It is a sacrificial love that we, as disciples, proclaim. It is a type of love that moms have for their children, fathers have for their sons and daughters, a sacrificial love that God has for us, and God demonstrates that love to us time and time again, and he calls us to that same sacrificial love. Our God created us out of love, and He created us in His image ... the creator of all life, human and divine. And we have been given the task to uphold that gift of life, to be stewards of life, and to be a voice for the voiceless." Listen to entire homily here.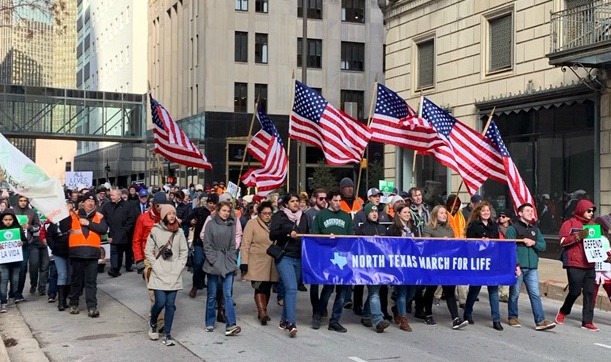 Before Mass, 100 people prayed at the Roe Memorial Rosaries outside the Southwestern abortion facility (led by Fr. Josef Vollmer-König from St. Patrick Parish and the Pro-Vida group from St. Ann parish) and Planned Parenthood abortion facility. Over 200 teens and their families gathered downtown at St. Jude Chapel for a Youth For Life Rally featuring inspiring presenters, including founders of Abel Speaks Kelly and Daniel Crawford, DCYC speaker and UNT student Caroline Jimes, with performance by Dave More Music, and a closing Mass celebrated by Fr. Fergal Ó Dúill LC, before joining the thousands readying for the March.
Families, groups, churches, and students marched through downtown Dallas, led by the Young Catholic Professionals, to the rally outside the Earle Cabell federal courthouse where Roe v. Wade was first filed over 46 years ago. The rally began with music by Ya Basta from Christ for the Nations, followed by an opening prayer by Bishop Burns, inspiring words from Marthalicia Burkle from Mater Filius maternity home, a powerful address by national radio host and author Eric Metaxas, and the beautiful testimony of Sibo Rumuba about her brave choice for life in difficult circumstances.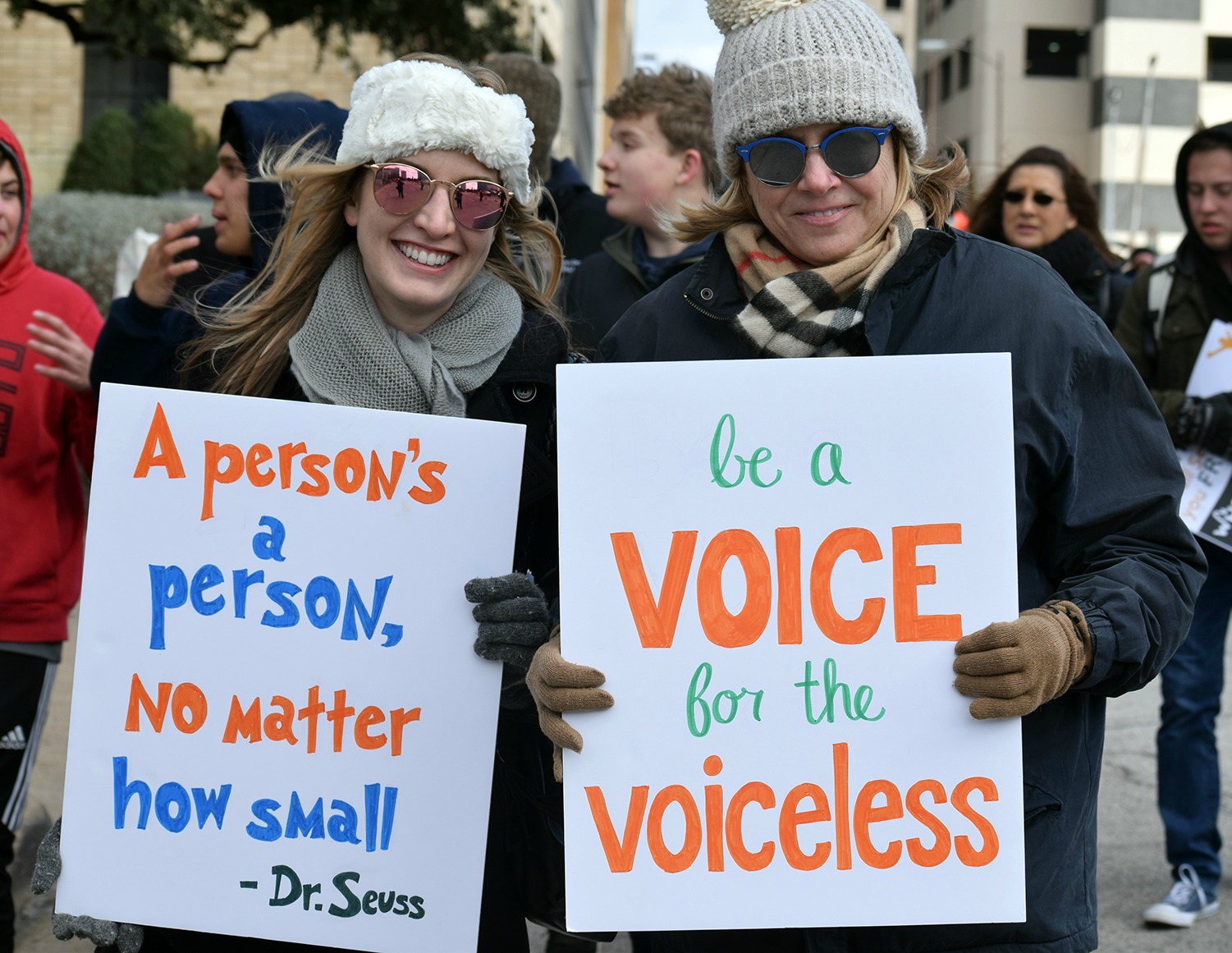 Emcee Becky Visosky, Executive Director of the Catholic Pro-Life Committee, closed the rally with an invitation to reflect on a personal "new-year-resolution for life" -- a commitment to step up for the pro-life movement in new and different ways throughout the year. It takes all of us to build and sustain a Culture of Life in North Texas!
Thanks to everyone who helped make this an incredible day for life, including our event partners Texans for Life and the Respect Life Office of the Diocese of Fort Worth, as well as the Knights of Columbus and many volunteers whose generous assistance makes these events possible.
As the size of these events grow in size, so do the costs. Your support to offset these expenses, is greatly appreciated. If you did not have a chance to give at the event, you still can here. Thank you!
Mark your calendar for 2020 Roe Memorial Events on January 18, 2020