Congratulations to 2018 Founders Flame Honorees Bishop Charles Grahmann and his inaugural Bishop's Pro-Life Steering Committee!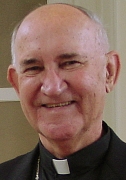 The roots of the Catholic Pro-Life Committee go back to January 1990, when Bishop Charles Grahmann prayed the first 2nd Saturday Rosary outside the Fairmount abortion facility, galvanizing hundreds of Catholics for the cause of life.
In February 1993, Bishop Grahmann invited pro-life leaders to meet and discuss how to fully implement the U.S. Bishops' Pastoral Plan for Pro-Life Activities. Following the meeting, the Bishop commissioned the Bishop's Pro-Life Steering Committee as the respect life committee for the diocese under the oversight of Fr. Edward Robinson, O.P.
In the years that followed, this Committee would build on a foundation of prayer and peaceful witness to create a comprehensive set of ministries devoted to ending abortion and restoring respect for all human life.
At the Silver Anniversary Bishop's Pro-Life Dinner, the community honored Bishop Charles Grahmann and the courageous women and men who first said yes to his call as members of the inaugural Bishop's Pro-Life Steering Committee. The "Founders Flame" given to each recognizes their vision and commitment which first lit the flame of respect life ministry in our diocese.
Bishop Charles Grahmann

Fr. Edward Robinson, O.P.
(in memoriam)

John Everett
(in memoriam)

J.R. "Danny" Dannemiller
(in memoriam)

Karen Garnett

Sheila Higgins

Anne Lesniak

Deacon Wayne Nacey

Bill Orender

Paulette Standefer

Thanks to their leadership and the many who joined them, the modest ministry that began 25 years ago has grown in scope and impact to be hailed as the "most effective diocesan pro-life organization in the world."