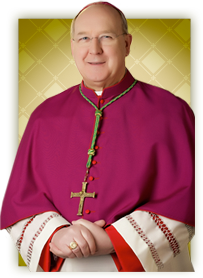 As we enter the Extraordinary Jubilee Year of Mercy, we have a wonderful opportunity to witness to Christ's merciful love at the 2016 Roe Memorial Events on January 16, 2016. Each year, I invite you to join me at this annual diocesan gathering. It is important to come together as a diocese to remember the more than 56 million lives lost to abortion since the tragic U.S. Supreme Court decision Roe v. Wade in 1973.
This year, the Roe Memorial Events will also bring attention to another critical facet of the Gospel of Life – our loving outreach to the many women and men who suffer with the burden of a past abortion experience. To reflect this special focus, the theme of this year's observance is "Speak LIFE to this present darkness." We are all called to be Christ's light in the darkness and messengers of His merciful grace to the suffering. Participating in the Roe Memorial Events is a good way to begin answering this call.
Our Holy Father Pope Francis reminds us that no one is beyond God's mercy, "that the Lord waits for us, that the Lord pardons us," and it is His "immense grace that changes our heart." One of the featured rally speakers can speak to that in a special way. Jewels Green is a former abortion worker who through God's love and mercy left the industry and found healing after her abortion.
I hope you can pray and march with me and thousands more on January 16th at the North Texas March for Life. I invite families, and particularly young people, to bring signs and banners for the family-friendly march. A complete schedule of this year's Roe Memorial Events follows my letter.
For more information, please visit prolifedallas.org/roe or contact the Catholic
Pro-Life Committee at 972-267-LIFE (5433). I look forward to seeing you on January 16th as, together, we "Speak LIFE to this present darkness." May God bless you!
Faithfully in Christ,
Most Reverend Kevin J. Farrell, D.D.
Bishop of Dallas
Schedule of events available here