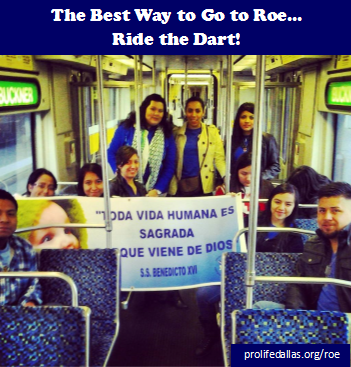 One-Day DART pass is $5.00.
Cathedral of Our Lady of Guadalupe – Pearl/Arts District Station
(Gathering location for March for Life, Procession of Roses, Roe Memorial Mass)
Saint Jude's Chapel - Akard Station
(Location for Youth For Life Rally)
March for Life Rally - Akard Station
(Ending location of the March)
Station Lists (with addresses and parking availability)
Free parking is available at the nearby Mockingbird Station, 5465 E. Mockingbird Lane at Central, with Red and Blue lines running directly to all stations listed above.
Please note: The walk from each station to the location is as follows:
For those persons attending the rosary:
At Southwestern abortion facility: You may take the Red line

from the

Park Station

, 8169 Park Lane at Greenville (free public parking is available) to the Pearl/Arts Station or take the

Orange Line

from the

Park Station

to the

Pearl/Arts Station

At Planned Parenthood abortion facility: You may take the Blue

Line

from the Ledbetter Station, 2006 E. Ledbetter Drive at Lancaster, or the

Red Line

from the Westmoreland Station, 2646 S. Westmoreland Road at Illinois Ave,

to the Peal Arts Stations. (

Free public parking available at Ledbetter and Westmoreland Stations.)
For further information you may contact DART #214-979-1111 for fees and schedules or visit www.dart.org.