Special guest speaker:
tim tebow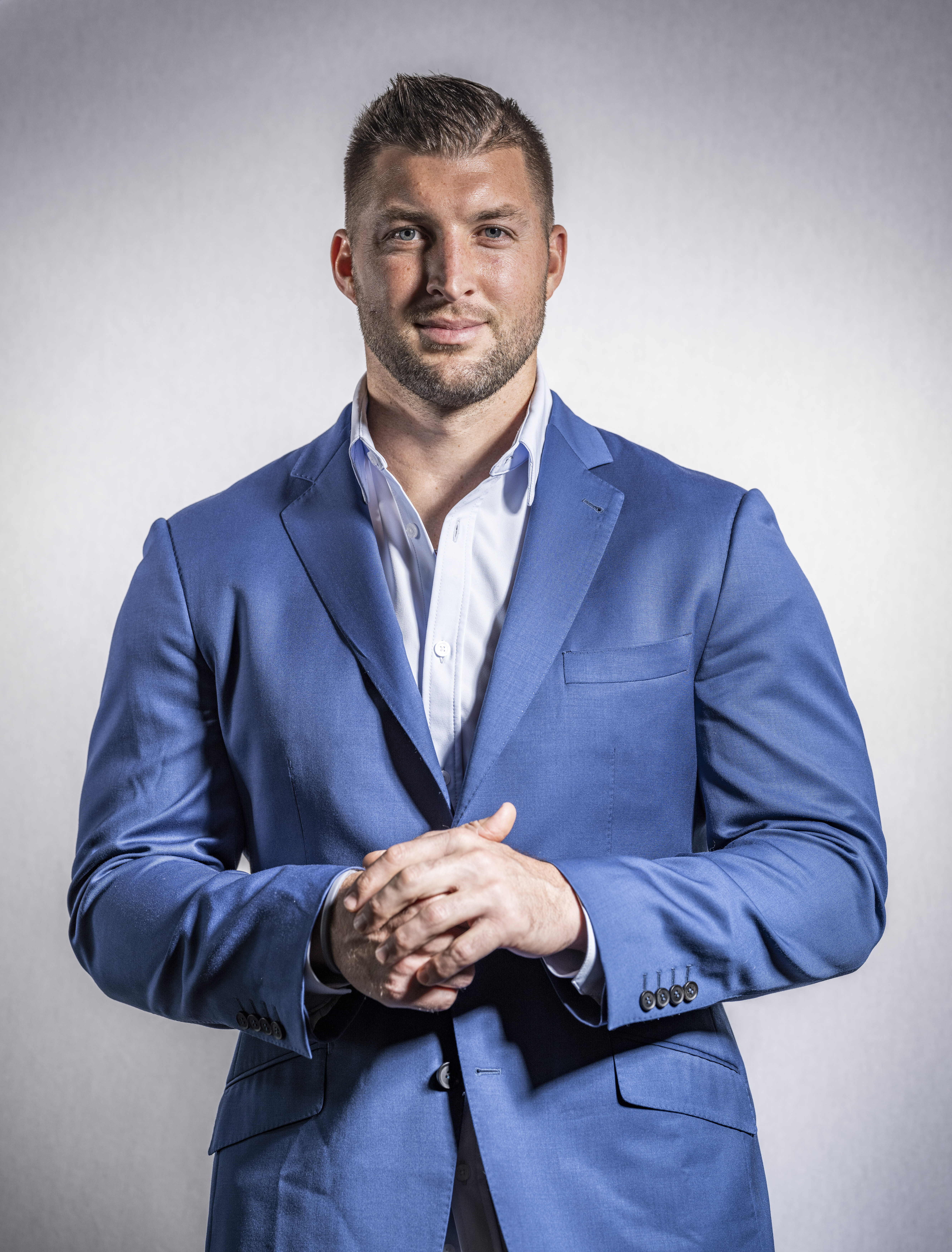 Tim Tebow was born in the Philippines and is the son of missionaries. He moved to the United States as a child, where he was homeschooled and played football for Nease High School in Ponte Vedra Beach, Florida. At Nease, he was named Mr. Football, the top high school football player in the state of Florida and won a state championship his senior year. He then went on to play quarterback at the University of Florida, where he majored in Family, Youth and Community Sciences. In addition to leading the Gators to win two national championships, and being the first sophomore to win the Heisman Trophy in 2007, he devoted himself to charity–raising money for pediatric cancer patients and disadvantaged children.
Tebow was a first-round NFL draft pick and went on to play three years in the NFL for the Denver Broncos, New York Jets and New England Patriots. From 2016 to 2021, Tebow played minor league baseball for the New York Mets. He married Demi-Leigh (Nel-Peters) Tebow, a speaker, influencer, entrepreneur and Miss Universe 2017, in 2020. The two reside in Jacksonville, Florida, with their three dogs, Chunk, Kobe and Paris.
Tebow is currently a college football analyst for the SEC Network. In 2023, he was inducted into the College Football Hall of Fame. He is also a worldwide motivational speaker, covering topics from faith to leadership. Additionally, Tebow is a 5-time New York Times Bestselling Author. His top-selling books include "Through My Eyes," "Shaken," "This is the Day," "Mission Possible" and children's book "Bronco and Friends: A Party to Remember." In 2022, he released his first devotional, "A Daily Devotional: Mission Possible." Tebow has partnered with several purpose-driven companies, including Clean Juice, Restore Hyper Wellness, Price.com, Allstate, Nissan, K-LOVE, NuSkool Snacks, Kindli and Minno Kids.
Despite his successes, Tebow is most passionate about his work with The Tim Tebow Foundation (TTF)–a nonprofit he started in 2010 with a mission of bringing Faith, Hope and Love to those needing a brighter day in their darkest hour of need. TTF serves some of the world's most vulnerable people and has reached 86 countries. TTF focuses its work on four main areas: Anti-Human Trafficking and Child Exploitation, Orphan Care + Prevention, Profound Medical Needs and Special Needs Ministry. A few of the nonprofit's major accomplishments include sponsoring Night to Shine, an unforgettable prom night experience, centered on God's love, for people with special needs all over the world; establishing Tebow CURE Hospital where thousands of life-changing surgeries have been performed; building and supporting 20 safe homes for human trafficking survivors with 14 more in progress; rescuing over one thousand people from human trafficking; granting 100+ W15H experiences to children with life-threatening illnesses; supporting 315 families through Adoption Aid; building 11 Timmy's Playrooms for children at hospitals around the world and more. For more information about TTF, visit timtebowfoundation.org