Sidewalk Counseling All-night Training (SCAT)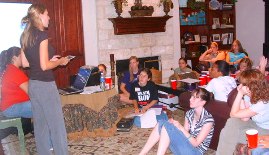 SCAT stands for Sidewalk Counseling All-Night Training. SCAT gives youth the opportunity to learn about what sidewalk counseling is and to learn how to do it from an expert.

Youth gather around dinnertime on a Sunday night and eat and fellewship. Dinner is followed by a comprehensive training with sidewalk counseling trainer extraordinaire Maria Graham!

After finally going to bed, we get up early for Mass and then head out to an abortion mill to pray.

Those who feel like they want to counsel the men and women going in are allowed to do so with one of the experienced sidewalk counselors present.

Usually held twice a year, SCAT is a short and easy way to get young people involved in pro-life work.
SCAT is open to high school students age 14-18 interested in learning how to sidewalk counsel.
Cleared adult chaperones and drivers will be needed.