Miracles
What Are They, When They Happen
and How They Can Change your Life
by Eric Metaxas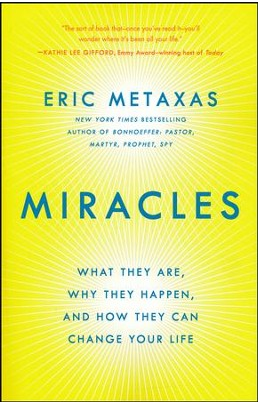 An inspiring and eye-opening exploration of the phenomenon of miracles from the New York Times #1 bestselling author of Bonhoeffer.

What are miracles, and why do so many people believe in them? What do they tell us about ourselves? And what do we do with experiences that we cannot explain? In Miracles, Eric Metaxas offers compelling -- sometimes electrifying -- evidence that there's something real to be reckoned with, whatever one has thought of the topic before. Miracles is also a timely, thoughtful, and civil answer to the books of the "New Atheists" -- Richard Dawkins, Christopher Hitchens, and Sam Harris -- who have passionately asserted not just the impossibility of miracles and the supernatural, but the outright harmfulness of belief in them. A more current, anecdotal, and personal version of C.S. Lewis's 1947 book on the subject, Miracles is a powerfully winsome challenge that miracles are not only possible but are far more widespread than most of us ever might have imagined.

Metaxas -- whom ABC News has called a "witty ambassador for faith" -- has served as the keynote of the National Prayer Breakfast and Bishop's Pro-Life Dinner in Dallas, and as a featured speaker at the National March for Life.
Suggested Donation: $20.00 with shipping included.