Mar 29
2017

Refreshment Sunday? What is that?
Add a Comment

Did you know that the 4th Sunday in Lent was also called Mid-Lent Sunday or Refreshment Sunday? It was the halfway mark through the Lenten season of fasting and penance. It was also known in the Middle Ages as Mothering Sunday. Christians honored the Blessed Mother on that day and celebrated people returning to Holy Mother Church. I'm telling you all of this mostly because I want to share this 14th century illustration.
The Virgin Mary has handed the Baby Jesus to an angel to hold while she wrestles the devil! It makes me very happy to think of her bulldogging him like that. She does that for us every day, doesn't she?
Archbishop Charles Chaput, in discussing another Medieval illustration in which the Blessed Mother punches satan in the face, says, "She doesn't rebuke him. She doesn't enter into a dialogue with him. She punches the devil in the nose." Or, as another writer put it, "Hail, Mary, Full of Grace, punch the devil in the face!"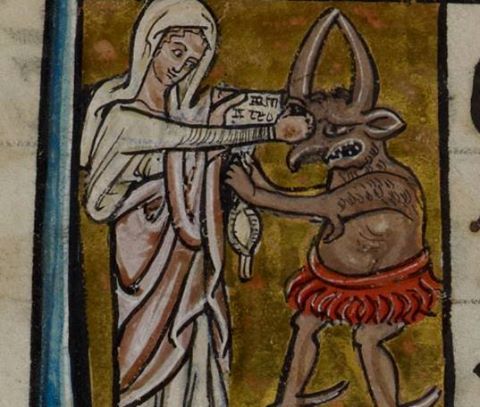 Praying that you are having a blessed Lent. If you feel you are flunking Lent, please be gentle with yourself, and as St. Teresa of Avila would say, "Begin again." Today is her birthday, so let's ask her intercession. St. Teresa of Avila, pray for us! And if you would like to pray St. Louis de Montfort's Act of Consecration to the Immaculate Heart of Mary, here it is.

I, (Name), a faithless sinner -
renew and ratify today in thy hands,
O Immaculate Mother,
the vows of my Baptism;
I renounce forever Satan,
his pomps and works;
and I give myself entirely to Jesus Christ,
the Incarnate Wisdom,
to carry my cross after Him
all the days of my life,
and to be more faithful to Him
than I have ever been before.

In the presence of all the heavenly court
I choose thee this day,
for my Mother and Mistress.
I deliver and consecrate to thee,
as thy slave, my body and soul,
my goods, both interior and exterior,
and even the value of all my good actions,
past, present and future;
leaving to thee the entire
and full right of disposing of me,
and all that belongs to me, without exception,
according to thy good pleasure,
for the greater glory of God,
in time and in eternity.

Amen.

By Susan Platt, CPLC Director of Prayer
---
To learn more about the Catholic Pro-Life Committee's Prayer Ministry, visit www.prolifedallas.org/prayer
Tags: