Education Ministry
...the work of education ... helps individuals to be ever more human, leads them ever more fully to the truth, instills in them growing respect for life..." – St. John Paul II, Evangelium Vitae, 97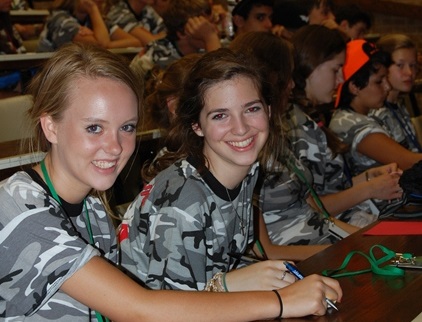 The Education Ministry of the Catholic Pro-Life Community includes both a Speakers Bureau of trained, volunteer presenters, and Youth For Life, a unique peer-based outreach to teens. Together, they empower youth and adults with the truth concerning challenging life issues and give young people the tools they need to be leaders in respecting and defending life at all stages.
Each year, the Speakers Bureau gives presentations to hundreds of youths and adults in parishes and parish schools on a variety of life-related topics, including chastity, fetal development, post-abortion trauma, contraception, and pro-life activism. The presentations are accurate, motivating, and in full accord with Church teaching. Read more here.
All presentations are offered in English and Spanish, thanks to the support of our Hispanic Pastoral Ministry.
Today, a new wave of enthusiasm and vitality characterizes the pro-life effort. Young faces appear at every event, a sure sign that the movement is growing not older, but younger. To guide and give voice to the next generation of pro-life activists, the Youth For Life Ministry hosts events and educational activities, mobilizing students in churches, high schools, youth groups, and colleges to build a Culture of Life. Read more here.