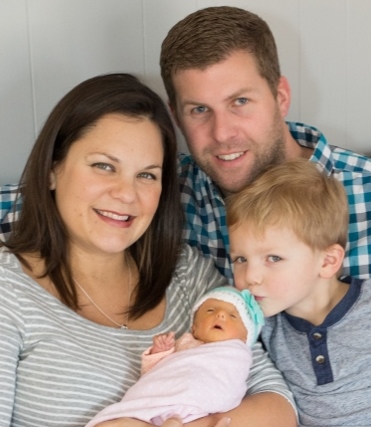 On April 18 at the 22nd Annual Bishop's Pro-Life Dinner, the Jonas and Tricia Roos family was honored as the 2015 Father Edward Robinson, O.P. Pro-Life Persons of the Year for their powerful witness to the beautiful truth that Every Life is a Masterpiece. Tricia is the head coach of the state champion girls' volleyball team at Bishop Lynch High School, and "Annabelle's Army" helped lead the North Texas March for Life in January. Read more about the Roos family's inspiring journey below.
The 150-Hour Miracle
Tricia Roos, head coach of the Bishop Lynch state champion girls' volleyball team, and her husband Jonas are the parents of Cameron, age 3, and Annabelle, with whom they shared eight precious days after her birth.
When Tricia was pregnant with Annabelle, the baby was diagnosed with Trisomy 18, a rare genetic disorder commonly characterized as "incompatible with life". When doctors recommended aborting Annabelle, Tricia and Jonas chose instead to carry her to term in hopes of giving her the best chance at life despite all the "odds" against her surviving.
Tricia's volleyball team and the Bishop Lynch community soon formed "Annabelle's Army" -- prayer warriors storming heaven for Annabelle to make it to term and meet her family.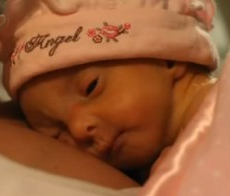 On December 29th, the miraculous happened. Tricia gave birth to Annabelle, who would experience 150 beautiful hours being held, celebrated and cherished by her family before being called home to Jesus on January 5th. The Roos family chose to share their journey as a witness to the incredible gift of the sacredness of every human life. Their powerful story was featured in The Dallas Morning News, a WFAA television news story, and several online outlets.
For the growing numbers who wanted to show their support for the Roos family, Annabelle's aunt created a Facebook group for "Annabelle's Army" -- a group that has now grown to over 8,300. When Annabelle passed into eternity, the family posted the following message:
God said YES to every prayer for Annabelle that we had asked, and did abundantly more than we had ever hoped for. Today, she is in the arms of her King -- completely healed and completely whole.

Despite our broken hearts and deep mourning, we cannot thank our Father enough for the perfect life He gave her and the impact she has made. Thank you for joining us in praying over her life. Every bit of Annabelle and our moments with her were beautiful. . .

We hope and pray that your life was changed by our little girl. God's love and care for her is the exact same that he has for you today.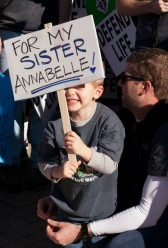 Lives indeed were changed! Two short weeks later, the Roos family, surrounded by hundreds of Bishop Lynch students, led the North Texas March for Life in shirts reading "Annabelle's Army / Every Life Matters". They marched in memory of Annabelle, who proved, in the words of her family, that she was "VERY compatible with life." They marched for the 9 out of 10 babies with disorders like Annabelle's who never get to know "the feeling of being held or loved." And they marched for the over 56 million children, healthy and otherwise, who have been lost to abortion since 1973.
We enjoyed a beautiful evening with the Roos family on April 18th, and feel certain our dear Father Robinson, a former Bishop Lynch teacher himself, is smiling from above.