GABRIEL EDUCATION MINISTRY & SUPPORT
(GEMS)
An Outreach of the Project Gabriel Ministry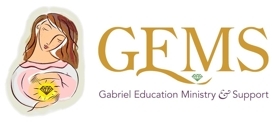 Gabriel Education Ministry & Support (GEMS) extends the ministry of Project Gabriel by offering mothers opportunities to learn more about themselves, about their Christian faith, about being better parents, and about gaining the knowledge and skills to help them take their place in the larger world of work, education, and service.
Mission Statement

That Gabriel clients develop a greater appreciation of their self-worth and God-given abilities; gain knowledge and skills to become more self-sufficient; and become motivated to make better life choices for themselves and their babies.
GEMS Academy Goal
​
To offer mothers instructional modules in character-building and life skills, and encourage them to set personal and professional goals, while completing course work toward graduation.